°o° --------------------- °o°
Recently I had a chance to go to Club 33 on my wife's 33rd birthday. It was a fantastic experience that we still can't believe happened. Photos of the Club will be coming soon.
Did you know that there are secret drinks at Cove Bar at Disney California Adventure?! I know!
The website Deliciously Disney (http://deliciouslydisney.com/) posted about secret drinks that you can get. Among them are:
Mickey's Fun Wheel: contains vodka, gin, tequila, rum, blue curaçao, lemonade and then they add some pink stuff (probably something to help your stomach from all that liquor).
The Black Pearl:  technically this is a Long Island Ice TeaSprite is used and it's topped off with Chambord
Zombie: (according to several reports) made with a dash of delicious, several fruit juices and (possibly) half of the rum they have on the shelf.
Have you listened to the first 20 episodes? Make sure that you head over to the 'Achievements' page, grab the graphic, post it, tag us (@podketeers) and use #PodketeersFirst20.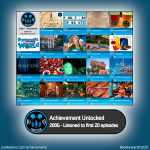 As mentioned in the episode, it'll be Javier's birthday when this episode launches so leave him a message on Facebook or send him a quick message on Instagram (he's @javipix)
Remember that if you're posting on Instagram or Twitter to use the hashtag #IListenToPodketeers.