°o° --------------------- °o°
We start off the episode talking about a milk stout new ice cream that we made prior to recording. We mentioned that we would add some ice cream makers in case you wanted to give it a go and didn't have one. The most cost effective one we found was around the $30 mark. There are definitely much more expensive ones and also some that are less expensive but they either required salt and ice cubes or manual labor. We'll be posting our video soon on YouTube so keep an eye out for it.
—-
We want to try making monkey bread. Have any of you tried it? Have any of you made it? Check out the image of what it looks like below and leave your thoughts in the comments section.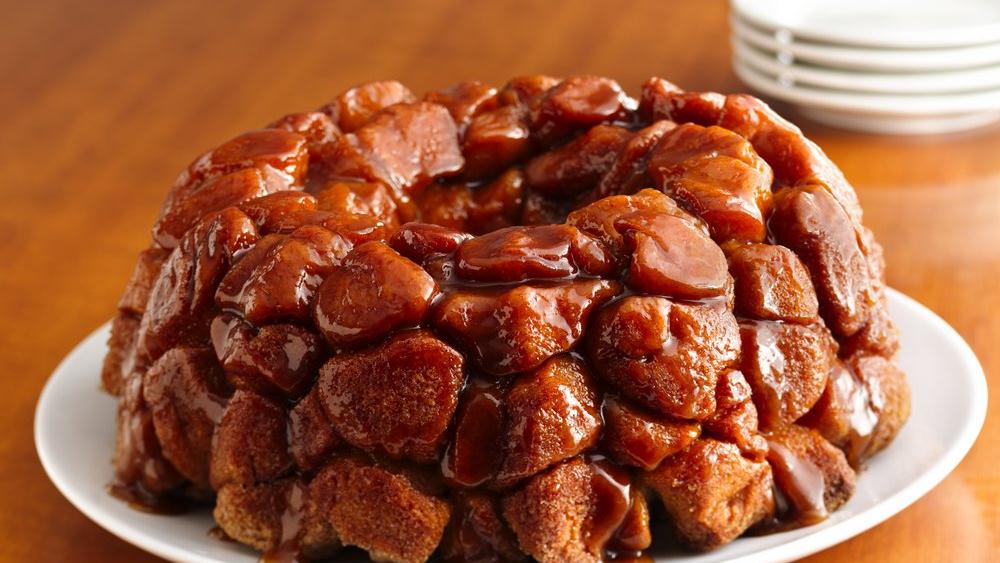 —-
Have you ever wanted a box with nothing but Lucky Charms marshmallows? We have and apparently General Mills received countless calls and emails from people requesting the same thing. Instead of mass distribution of the "marshamallow only box, General Milss decided to have a social media contest where only 10 boxes (yup, only 10) would be given away. Entry was simple. All you had to do was take a selfie of yourself and tweet it, post it to Facebook or Instagram with the hashtag #Lucky10Sweepstakes, unfortunately, the last day to submit entries was October 18th. The original video to promote the campaign featured Biz Markie paying tribute to his 1989 hit 'Just A Friend' (which, in case you didn't know, was a tribute to the 1968 Freddie Scott song '(You) Got What I Need'). The original video has now been marked "private" and can no longer be seen, however, we did find someone that posted the audio which you can listen to below. We don't know how long this will be up so give it a listen as soon as possible.
—-
The fictional Nike Air Mags from the Back To The Future II movie are will be a reality for some lucky auction winners. Tinker Hatfield, a designer at Nike, unveiled the popular shoes earlier this year. A version of these shoes was sold via auction back 2011 with proceeds benefiting the Michael J. Fox Foundation the new version of the shoe will be sold in a similar fashion Spring 2016.
Forbes recently wrote an article about the tech behind the shoes and it's awesome! In the article they included images from the patent filed by Nike for the "power laces". Check out the images from the US Patent 8769844 filing from July 8, 2014:
The article that we reference that talks more about the tech behind the shoes is located here:
http://www.forbes.com/sites/jvchamary/2015/10/22/nike-back-future-sneakers/
Speaking of Back To The Future, here is the video of the Lexus Hoverboard (this is not the fake Tony Hawk version):
Also, here is a pic we found on Instagram of the newspaper we talked about:
—-
Rolling Stone has an article on the competitive eater(s) that ate the 40 lb goat to try to "break the curse" for the Cubs. You can find that article here:
http://www.rollingstone.com/sports/videos/watch-cubs-fans-eat-a-40-pound-goat-to-break-chicagos-curse-20150923
—-
Over on the DapsMagic YouTube channel, listener Cameron posted a video about the AP price increase. Like we said in the episode, we know we've been talking about it a lot but he takes a lot of the things that we've already talked about and adds some great points to supplement the reasoning on why this is happening. Check it out below: