We've talked a lot about the game Disney Infinity and in episode 
Ep63: Where's the download?
 we mentioned that we thought Disney Infinity 3.0 would
not
be available for digital download (expect in the UK). Within 48 hours of release the digital downloads became available for PS4, PS3, Xbox One and Xbox 360. These downloads will allow you to unlock and play in the Toy Box mode with your existing Infinity base. If you're familiar with Disney Infinity
click here
to jump down to the download links. Otherwise, read further and we'll do a quick break down for you.
To start, Disney Infinity is broken down into several pieces:
Game disc (or digital download)
Disney Infinity base: this is the USB device that connects to your console. You place characters and pay sets pieces on it.
Play set pieces: these are translucent game pieces that go on the base and determine the "world" you will be playing in (i.e. the Caribbean, Metroville, Radiator Springs, etc)
Characters: the figures you will use during game play. Figures can not cross between play set pieces so, for example, you won't be able to use Iron Man inside of Monsters University. All characters (that you own), however, are available to play in the Toy Box and will be available in the new Toy Box Speedway and Toy Box Takeover game pieces (more on that later).
Power discs: power ups, additional abilities, vehicles, scenes and decorations for your Toy Box or during game play. This comes in the form of a small hexagonal or round pieces that either go  under your play set piece or the character you are playing as.
For the most part, everything will be
forward
compatible until you get to 3.0. Anything currently labeled "3.0" will only compatible with the latest version of the game. Due to an overhaul of the 3.0 software, 1.0 and 2.0 play sets pieces will not be compatible with the 3.0 game disc of digital download. You will need (at least) a 2.0 game disc or download to play those.
If this will be your first time owning Disney Infinity there are several ways to get started. Please keep in mind that the options that we're listing below all have the same game disc and base, the differences come in the extras. Here's what you get:
Disney Infinity 3.0: Star Wars™ Starter Pack: game disc, base, Anakin Skywalker, Ahsoka Tano and the "Twilight of the Republic" Play Set piece
Disney Infinity 3.0: Star Wars™ Special Edition: same as above but this set adds the "Rise Against the Empire" Play Set piece and the Luke Skywalker and Princess Leia characters (the "Rise Against the Empire set will be released on it's own without the game starter pack on September 29, 2015)
Disney Infinity 3.0: Star Wars™ Saga Bundle (PS3/PS4 only): same as special edition release plus the exclusive Boba Fett character. As of the writing of this post no date has been set for the single character release of Boba Fett.
If you want to save some money and aren't huge on the Star Wars franchise, you can get an older version of Disney Infinity (like 2.0) for just about half the price (depending on your console). This will give you access to all the old characters and play sets that you can get as part of many buy-1-get-1-free sales and even some Black Friday deals. Once you're ready to move forward you can always get the digital download for 3.0 (about $20-$30 depending on your console) which will allow you to play the new Inside Out Play Set, the Toy Box Speedway and the Toy Box Takeover games (both sold separately).
The Toy Box Speedway and the Toy Box Takeover will be two brand new experiences in 3.0. The Toy Box Takeover is what will allow you to mix characters and work together on missions. So, yes, you will be able to play and Mickey and Darth Vader and work together towards a common goal (granted you own those figures). The Toy Box Speedway is very similar to Mario Kart. Just like the Toy Box Takeover, you will be able to choose any of the characters that you own and race them against other Infinity characters. Both of these Play Sets will be sold separately and it appears that they will retail for around $19.99 each.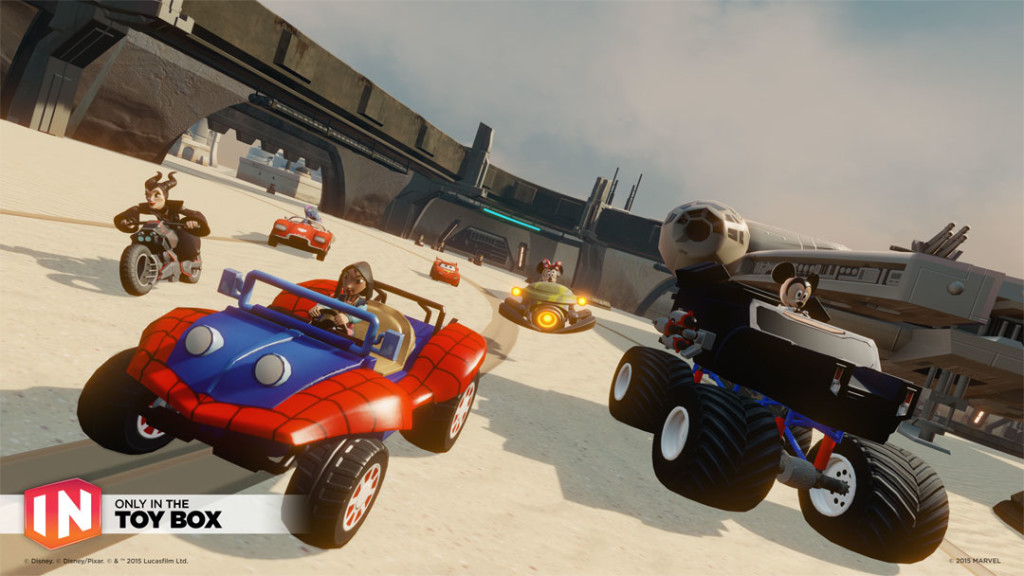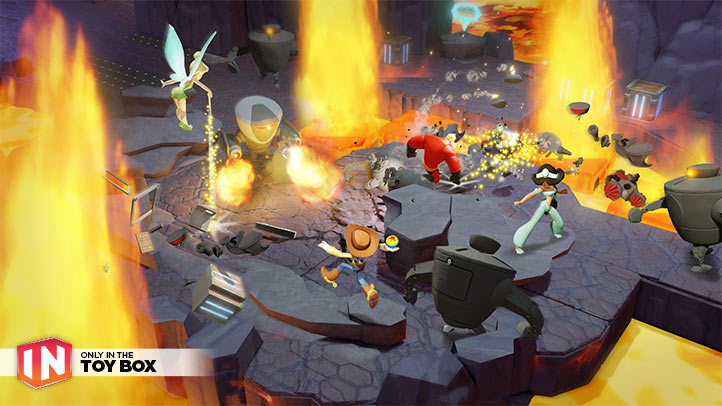 We hope this quick intro/breakdown helps. If you have any questions, please leave them in the comments section below and we'll do our best to answer them.
---
Download links
Here are the download links for each console. You will need a login to each store in order to purchase.
PS4 Download ($19.99):
https://store.playstation.com/#!/en-us/games/disney-infinity-30-edition/cid=UP1082-CUSA01705_00-DISNEYINFINITY03
PS3 Download ($19.99):
https://store.playstation.com/#!/en-us/games/disney-infinity-30-edition/cid=UP1082-NPUB31657_00-DISNEYINFINITY03
Xbox One ($29.99):
http://store.xbox.com/en-US/Xbox-One/Games/Disney-Infinity-30-Edition/2ad927ff-bfe1-4e28-a4eb-6826a2c8aef0
Xbox 360 ($29.99):
http://marketplace.xbox.com/en-US/Product/Disney-Infinity-30/66acd000-77fe-1000-9115-d80242560832