°o° --------------------- °o°
Early on in this episode Javier "hulks out" because Mario and I couldn't remember something we had shown him before we started recording. We finally figured out that he was talking about a "to-go" bottle of Sriracha that we had seen on Twitter.
While recording I made a comment about how Photoshop was "clearly" used to create it and boy was I "clearly" wrong. This is an actual product! A company called  Sriracha 2 Go actually sells these small empty bottles so that you can fill them and take your Sriracha sauce on the go. Genius!
Speaking of food, during the month of October, Disneyland had limited edition prints to celebrate the 45th anniversary of the Haunted Mansion of the stretching portraits, however, they featured the 'Fab Five'.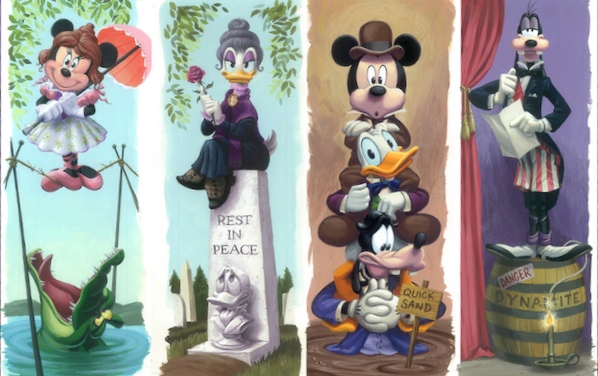 The prints were $5 and were only available for purchase if you made (at least) a $30 food purchase. This was tough because it had to be before tax and with your AP discount you ended up having to buy something else to get you over the $30 mark. The locations where these prints were available are as follows:
Minnie Mouse – Rancho de Zocalo
Mickey, Donald and Goofy – River Belle Terrace
Daisy Duck – Plaza Inn
Goofy – French Market
Painted by artist Eric Scales, these prints were really nice and worth the money you spent to get them. Although framing them is a bit awkward, they are a great piece of art.
Christmas at the park is so fun! There are so many fun things to do. What is your favorite thing to do at Disneyland during the holiday season? Leave a comment down below.