°o° --------------------- °o°
It's Mario's birthday episode and to celebrate we watched Star Wars Episode 4 for the first time! 😀 Ok, well, maybe we didn't watch it exactly for his birthday but leave him a nice birthday message down below in the comments section (or on our Facebook page (facebook.com/podketeers). 🙂
—-
Disneyland was the most geotagged location on Instagram in 2014! It unseated the Siam Paragon mall in Bangkok. To be clear, these locations did not have the most images on Instagram , it just means they had the most people add the location of the photo to a map (geotag). Here is the whole list of the top 10:
Disneyland — Anaheim, Calif.
Dodger Stadium — Los Angeles
Times Square — New York
Siam Paragon (mall) — Bangkok
Gorky Park (amusement park) — Moscow
Musée du Louvre — Paris
Red Square — Moscow
Madison Square Garden — New York
Yankee Stadium — New York
The Dubai Mall — Dubai
What was the biggest surprise for you on the list? Leave a comment below.
—-
Alright, back to Star Wars! Although we cover most of our thoughts in the episode, here's a couple more things that elaborate on a couple of points we touched on. Javier brings up a line stating that Jabba the Hut was originally supposed to be a human. Here is what George Lucas said about this scene a special features CD-ROM called 'Making Magic':
 "When I first shot the scene with Jabba the Hutt, I knew I was going to create some kind of stop-motion creature…I had to have somebody–an actor–play the part so Harrison had someone to play against, so we just picked a big guy and put him in a fuzzy vest. I, at that point, felt that he may be a character somewhat like Chewbacca, a big furry character. We shot that. As we were cutting the movie, [we] realized relatively quickly that we didn't have the time or the money to actually shoot that scene [the stop-motion optical]. That ILM was pressed way beyond what it could pull off as it was. So I had to abandon that sequence pretty early on. I had to cut back on special effects shots and that sort of thing because ILM just couldn't handle it."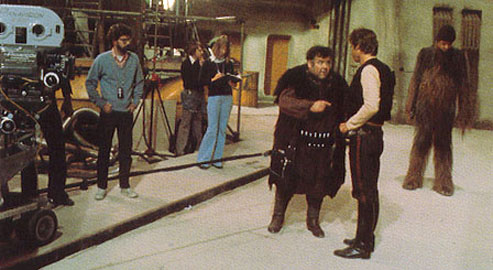 There's tons of speculation on whether that statement is true because the actor playing the "stand-in" Jabba was wearing a full costume. There's also a lot more information about how a puppet for Jabba hadn't even been created since the original concept was to have him be an actual man. What are your thoughts on this? Do you believe that Jabba was actually intended to be man or puppet? Do you know additional information about this, please leave a comment below.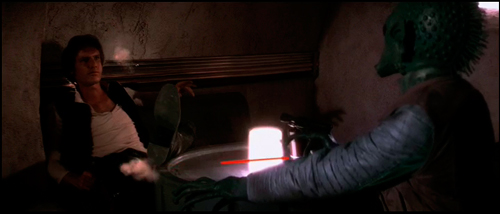 Regarding the "Han shot first" thing, Mario is correct. In the original version of the movie, Han is actually the only one that shoots! The movie was changed to allow for future character development to not make Han look like an assassin. The scene was actually changed twice. The first edit made Greedo shoot first and he misses before Han shoots back in self-defense. In the second edit, Han and Greedo shoot at "the exact same time" (even though if you slow the frames down, Greedo actually shoots first). Thoughts?
—-
Remember that this is the last weekend to help out a few local listener projects to help make the holiday season a little bit better (click on any image for a larger view):