°o° --------------------- °o°
It was an absolute pleasure to get a chance to sit down and chat with Jeff Baham because I've been a fan of his for a long time. Jeff is the proprietor of
DoomBuggies.com
, host of the DoomBuggies Spook Show and is the founder and co-host of one of my favorite podcasts, 
Mousetalgia
. Jeff is also the author of the 
The Unauthorized Story of Walt Disney's Haunted Mansion
(
available on Amazon through our affiliate link by clicking on the image of the book). The book is definitely a great resource and collectible for any Haunted Mansion or Disney history fan.
OOPS!
During the podcast I mistakenly refer to the music of the Haunted Mansion as "Overwordly Concerto" when in fact it is actually called "Otherwordly Concerto".
If you've never heard the music to Phantom Manor at Disneyland Paris, I really like this version. The music is a wonderfully orchestrated piece and although it will never replace the original version from Disneyland's Mansion, it is definitely worth a listen. Check it out and let us know what you below in the comments section.
And now… the Hatbox Ghost.
For years it was unknown if the Hatbox Ghost truly existed. A new "window" lenticular in the Mansion suggests that something new is coming and most people (including us) are speculating that the Hatbox Ghost is coming home. But is this really the best thing? Listen to the podcast to check out Jeff's thoughts on HBG returning. The photo that Jeff mentions on DoomBuggies.com is the only known photo in existence of the Hatbox Ghost in the attic. If the photo wasn't proof enough that good ol' Hattie existsed, Jeff also mentions a video that surfaced just about 5 years ago in which a home movie shows a familiar outline that happens to match up with the photo from DoomBuggies.com. Take a look below: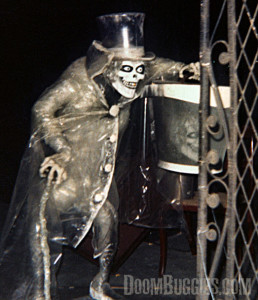 That's it for now. If you enjoyed the episode, please leave a comment below and make sure to check out DoomBuggies.com or DoomBuggies on Facebook.