°o° --------------------- °o°
In this episode Mario talks about how he went to a recent Maroon 5 concert and how his original seats were upgraded shortly before the concert started. Check out the image below:
Mario also talked about the artists that opened the show; one of those artists was Rozzi Crane. Heyzen and Javier had not heard of her until Mario mentioned her. Heyzen was an instant fan and was even upset that he hadn't heard of her before! Check out this great cover of 'At Last' by Etta James that she did:
Here she is knocking it out of the park again covering one of her mentor's most famous songs, 'She Will Be Loved':
—-
We talked about MLB player Jamie Moyer getting stuck this past week on California Screaming at California Adventure. Here is the tweet that he sent out.
Stuck on California Screamin' at Disneyland. Not sure what is more difficult, pitching in a Major League game or this pic.twitter.com/gM6qwZ2kPs

— Jamie Moyer (@jmo50Moyer) April 3, 2015
A Disneyland spokesperson came out to say that a minor mechanical issue. All guests were evacuated within a 30 minute time frame and the ride was shut down for an hour. There were no injuries reported.
Have you been stuck on a ride? Which ride and how long where you stuck? Tell us your story down below!
—-
One of the changes coming to Disneyland soon is that the Main Street band in it's current incarnation will no longer exist. The "end of run" notice of the Disneyland Band was issued on March 31, 2015 in a meeting. Members of the Orange County Musicians' Association, Local 7, AFM were told that they would have to audition again to be a part of the upcoming version of the Main Street band. Disney has since then responded and stated that the members of the band will need to audition and those that don't make it will be split into other musical groups (like the ones you see on New Orleans Square, the small musical groups on Main Street, performing with Mary Poppins in front of Sleeping Beauty Castle, etc).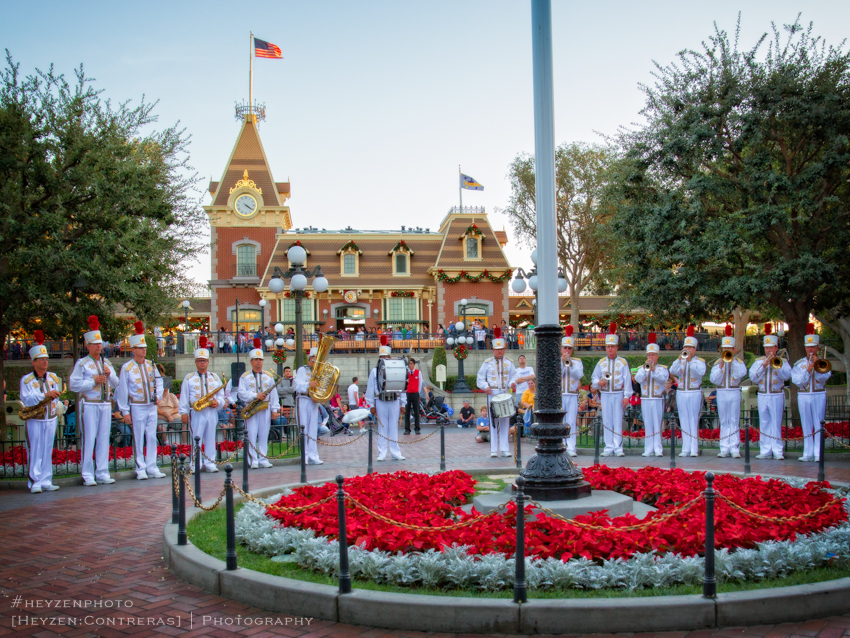 Is it possible that a higher energy version of the band is coming? Could it be similar to the All-America College Band experience seen in the parks? Here is a video of the All-American College band that we found on YouTube performing a medley of Earth, Wind and Fire songs:
If you would like to see the 60th Anniversary Medallions spotted on the freeway, click here:
60th Anniversary Medallion Decorations?