°o° --------------------- °o°
Heyzen finally rode the new Matterhorn! Check out the photo he was able to get while riding:
Also, the day of our Podketeers movie meet-up, our listener pal, Jesse, shot this great slow-motion video of good ol' Harold (2.0). 😉
—
In this episode we mentioned that Peter Pan was still closed. For those wondering , it will be reopening on July 1st, 2015 after it's latest upgrades are finished. What changes are you hoping for? What do you hope stays the same? Leave your comments down below.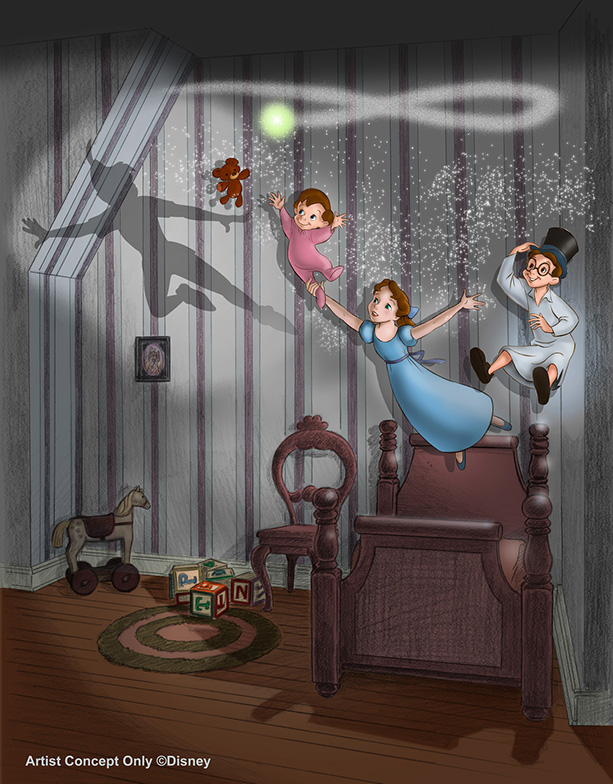 —
The Indiana Jones ride opening has never been fully functional. The original concept was for the Jeep to stop at the Chamber of Destiny. At this point you would "choose your destiny" and the jeep jeep would go through one of the doors. In actuality, the wall with the doors was the one that moved back and fourth to give the illusion that the jeep was going into one of the them (along with the constant bouncing and jittering of the jeep itself). Here is a diagram we found online that illustrates what we're talking about: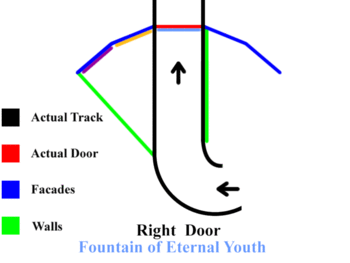 The recent changes now project "your destiny" onto the middle door to prevent the wall shift. Mario and Javier say that this effect is "too bright" has too much and is "unnecessary".  Below is a (very bright video) of what the effect looks like now. Have you seen it in person? Do you think the lights are unnecessary? Leave your thoughts below.
—
The magic windows on Main Street look so great! Here is the new Peter Pan window:
and here is the new Cinderella one:
A total of 6 new windows were announced earlier this year. We'll see the next two windows in July and they will feature stories from 'Frozen' and 'The Princess and the Frog'. The final two windows will released in August and will feature 'Toy Story' and 'Aladdin'.
—
Being local to the Los Angeles area allows us to also be in the center of the magic community (one of Heyzen and Mario's favorite things). Heyzen and Mario have been fortunate enough to meet some amazing magicians and Derek Hughes is one of them. We recently found out that Derek is on the TV show America's Got Talent! Below is his audition video.
Magic isn't seen by everyone as an "art" but it is truly a difficult thing to do well. Some practice their entire lives and never reach the level they would want to be (or think they are). In season 9 of AGT, Mat Franco became the first magician to claim the $1 million prize and get a Las Vegas show. We're hoping history can repeat itself and Derek follows the path that Mat has opened up. Break a leg, Derek!
—
This week we announced the latest project we'll be working on! We're calling Dreamer's Diary and will allow us to spotlight some of our favorite artists. We'll be kicking off 'Dreamer's Diary' with our pal, the very talented, Gavin Otteson. Gavin has so many great pieces that we're glad he took this photo with a handful of his miniature paintings:
Gavin also surprised us with this great piece of fan art!
We're really looking forward to all of the amazing artists that we'll be featuring!