°o° --------------------- °o°
Autonomous vehicles are becoming more fact than fiction. Google has been at the forefront of this movement with brands like GM, Tesla and Ford following suite. Ford has even gone as far as creating their own city with building, lights, streets and almost everything you can see in a city, except people. Recently Google's autonomous vehicle set a milestone as it was the first time that a self-driven car was pulled over for a ticket. The car was going 24mph and was creating a line of traffic in the Northern California city of Mountain View. Once the Mountain View police officer realized that it was an autonomous vehicle (even after asking the human passenger some questions) it let the car go on grounds that no law was broken and Google can continue their claim to 1.2 million+ autonomous vehicle driven miles without getting a ticket. What do you think about these self-driving cars? Would you get in one? Would you take a nap while it drives you where you need to go? Leave your thoughts below.
—–
Last week the Disneyland Resort announced that the River Belle Terrace will become table-service restaurant and will start serving lunch and dinner on February 20, 2016. Along with new menu items comes the addition of reservations but one of the interesting things that we saw as part of this announcement is that they are bringing Southern BBQ-style foods like ribs and chicken onto their this menu. Another addition will be new seafood sides and appetizers. Did the food we're losing at Big Thunder Ranch find a new home? One thing we're fairly positive about is that if it did, we doubt it will continue to be all-you-can-eat.
Some of your old favorites from the old River Belle Terrace menu will find a new home at Rancho Del Zocalo will also gets a fairly significant change as it begins to serve breakfast on February 2, 2016. Nothing specific about meals was mentioned other than they'll be getting "Mexican-inspired" breakfast entrees and that the famous Mickey pancakes will be finding a home there until 11:30am.
——
The original Taco Bell open its doors windows on March 21, 1962. More than half a century later the original location is finding a new home. After petitioners fought to prevent the building that housed the first Taco Bell from being demolished, they won their fight Taco Bell (whose parent company is Yum! Brands) decided to move the building to their corporate headquarters in Irvine, CA. Check out the video below.
——
Recently this image made its way around the internet: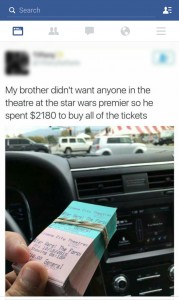 This seems like a hoax to us. There are some plausible things about the scenario itself but would a movie theater sell one person $2000+ worth of tickets so that they can watch it "by themselves"? What do you think? Leave your comments below.