°o° --------------------- °o°
At the beginning of this episode we talk about a new band that debuted in late 2015 called DNCE which is fronted by Joe Jonas (formerly of The Jonas Brothers), Jack Lawless, Cole Whittle and JinJoo Lee. The song 'Cake by the Ocean' is on their EP and is a pretty catchy tune. Check it out below:
---
A University of Utah film student decided to experiment by taking out the "Inside" part of the Disney's 'Inside-Out'. What came from it is a weird is a fairly complete story in just about 15 minutes (even though we kept saying 12 minutes in the episode). Hanzon stated, "It really tells the whole story of a teenager, really, having to move, having this huge change in your life, and having to cope with it. You don't get to see the behind the scenes, but it's still an interesting story to watch…I guess it's more sad now? You just get to see Riley cry a lot." It's an interesting view of the movie because without the scenes of the emotions discussing what is going on in Riley's head, Peter Docter and the 'Inside Out' team still told a story that many can relate to. Check it out below and let us know in the comments section what you think about it.
---
This last week marked the end of many attractions at Disneyland, some for a short while and others forever as part of the 14-acre Star Wars expansion. As part of that expansion we will be temporarily be losing attractions like the Mark Twain, The Sailing Ship Columbia and the Disneyland Railroad but the folks at Disney have decided to put together some limited-time experiences with these attractions. One of the things you'll be able to do is get up close to the steam trains that have circled 'The Happiest Place On Earth' and get stories about their history, fun facts about the trains from the engineers and even get a chance to take a picture with one. Similar experiences will be available on the Mark Twain and the Columbia.
The Jungle Cruise will also be down for refurbishment a good chunk of time (in part as they take down the Jingle Cruise and plus up a few things) but it will also  be getting a limited-time experience as skippers will entertain guests outside of the attraction.
---
Carolina Huamani (Lemon Drop Cosplay) spends her days as a software and electrical engineer but has also learned the skills needed to sew and put together her own cosplay outfits. For the latest Star Wars release, she wanted to put something extraordinary together and she designed a dress (which she mocked up using Post-It notes) that can start off as an R2-D2 design and with a quick twirl can magically morph itself into a BB-8 design. Check it out below:
Check out these photos that Carolina posted of her dress:
---
CES (which used to stand for the 'Consumer Electronics Show' but apparently no longer stands for anything) is where many companies go to show off their new tech. Although many major companies (like Apple, Google, Samsung, etc.) no longer go to CES because they have their own events CES can still have some major announcements. This year, Disney's Jon Snoddy (Executive Vice-President of Imagineering) shared a little about what we can look forward to as part of the Star Wars Land expansion.
Although not many details were given, he talked about how Industrial Light and Magic will be involved and that the rides will be "unprecedented." Along with another announcement about the new rides, we know that at least one of the attractions will be a battle between the Resistance and the First Order. During the announcement he also mentioned working on a boat ride similar to "Pirates of the Caribbean" but it looks like more projection technology will be used to enhance the experience.
We're looking forward to learning more about the upcoming Star Wars Land attractions as more is announced!
---
With Big Thunder Ranch closing many people were wondering where the goats would be relocated to. The Disney Parks Blog gave us a glimpse at the goat's new home in Murrieta, CA in the video below.
---
Earlier this week an image started circulating that the Disneyland buttons were being updated. When we recorded the episode we didn't realize that this image didn't come from Disney and we have still yet to confirm but if this graphic is true, it looks like the "Happy Birthday", "I'm Celebrating" and the "1st Visit" buttons are all getting new looks for 2016. One interesting thing (that, if true, we really don't like) is the decision to consolidate the "Happy Anniversary", "Just Married" and "…Happily Ever After" buttons into one. From a business stand-point it makes sense, but if anything, we feel that the anniversary button should still stand on it's own.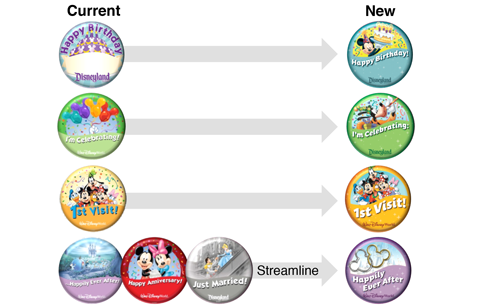 ---
With a major part of the park closing and the rising ticket prices, many park-goers have expressed their discontent but it seems that Disney has heard these pleas and will be offering four special ticket pricing options beginning January 6, 2016 for Southern California residents. The prices will be as follows:
2-Day, 1-Park Per Day Ticket – $149
2-Day Park Hopper Ticket – $189
3-Day, 1-Park Per Day Ticket w/Magic Morning – $179
3-Day Park Hopper Ticket w/Magic Morning -$219
The tickets will be available for use through May 26, 2016 but blackout dates will apply to these tickets and will exclude March 20, 2016 through April 2, 2016.
For more info head over to www.disneyland.com/flex
---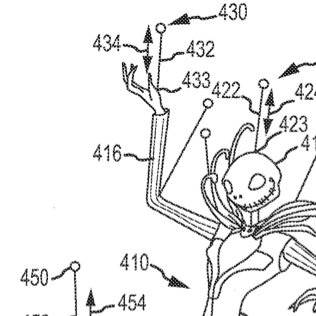 Back in 2014, the financial site MarketWatch reported that Disney had filed three patents drone and UAV (unmanned aerial vehicle) devices which they intend(ed?) on calling "Flixels." Using an integrated ground control system, Flixels would be used as mechanical marionettists providing larger than life characters in the sky. The plan was to use them during fireworks shows in what is currently known as the "pryo clear zone" (the area that guests are not allowed to go through usually cleared before a fireworks show). Just imagine Zero or Tinkerbell flying around during a show without the constraint of a glide wire! We would love to see this in the parks! When this patent was filed it was illegal to fly drones for commercial purposes (a battle that is still being fought) and now there are just more FAA regulations in place for drones owners/operators so it'll be interesting to see where this technology goes and how quickly we see it in the parks.