°o° --------------------- °o°
We start the episode with Heyzen going on a rant about Fitbit and manual steps entry. In short, Fitbit used to allow you to enter steps manually (for a variety of reasons) that counted towards daily/weekly goals and challenges. Late in 2015 Fitbit made a change in which that is no longer allowed you steps only count if counted by your device. This is not cool. Just one example where this is useful, if you're racking up steps on a treadmill desk your arm isn't swinging when you're typing, this means you're losing those steps. Just to be clear, Heyzen will still get the Blaze next month because it is a great motivational tool and in no way are we saying stay away from this product. We are saying that to some extent we get it. Fitbit doesn't want anyone to cheat and wants to keep it fair across the board but is that really something for them to decide? We would understand if they had nation or world-wide competitions for money/prizes but they don't so why would it matter to them? Leave your opinion down below. We'd love to hear your thoughts on this.
---
Hey look! It's the BIG Amazon button. 😉


---
In 2015, Disney coined the term Villaintine's Day to celebrate the the anti-heroes of the Disney universe. To help celebrate this year Disney shared a new wallpaper featuring Maleficent, the Wicked Queen and Cruella. Get your own from the Disney Parks Blog by clicking on the image below for several size options.
---
In case anyone was wondering, there was no conspiracy attached to Peyton Manning's upside down hat just a flub on the manufacturing side. A New Era spokesperson, the hat manufacturer, stated that this is just one hat that accidentally made it though inspection. Not really a big deal but we guess it's a cool story to attach to the "hey, I also won the Super Bowl" story.
---
This last week filming continued for the 60th Anniversary World of Disney show coming this month and while filming Idina Menzel forgot the lyrics to Let It Go. Yes, she does sing this song a lot but hey, we're human. She recovered nicely and we commend her for an amazing job! Here's some tweets from guests in attendance that night:
---
During the Super Bowl, this ad for Coca-Cola featuring The Hulk and Ant-Man aired:
There were tons of hidden messages in the ad including hashtags and websites. If you went to those websites, searched for the hashtags, etc, you found yourself in the middle of a viral campaign to win special edition mini Coke cans featuring some of the Avengers.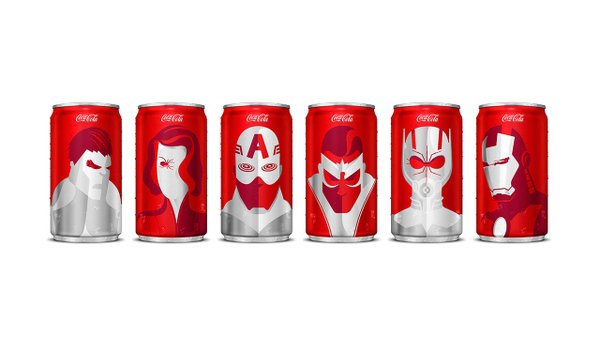 Although the hunt is now over, there is one story that we've read that is still pending an ending. Reddit user showbizclique says he got tricked out of winning a MINI Cooper that was part of the promotion. Here is his post (with updates as of today):
I had to repost this after putting it on TIFU, so here it is:

So I was following the viral marketing for the coke/marvel ad that played during the Super Bowl last night and coordinates pointed to Griffith Park, somewhere I live very close to. I drove up and arrived at a parking lot with an RV and a red mini cooper. Someone was filming me as I was trying to figure out what I needed to do next and the host told me to wait, so I sat 15 mins thinking he'd give me follow up info. When he gave me no such thing I began searching around the park thinking it would be hidden, only to find nothing. After an hour of searching, someone pulls up and yells "Make it Mini"

They won the car. I was so confused that it wasn't until after did I realize this host screwed me over. The final clue was a snapchat vid that he made after I had already arrived. Rather than telling me there was another clue, he told me to wait. Had I not trusted him and tried looking for more info online, I could have probably won the car 30 mins before anyone arrived. I left salty, calling coca-cola and filing a report just so I could have my voice heard. It's a bummer I came so close to winning something only to be misled at the end.

Moral of the story: Never trust Giveaway Hosts.

EDIT:Thanks for the gold, community support feels amazing after feeling down all day
We understand that running a contest can be difficult but if someone figures out what is going we feel that (as the contest host or representative) it is your obligation to let the contestant know if they still need something or need to complete a task to win. If you want to read the entire article to follow the story, click here:
https://www.reddit.com/r/misc/comments/44to2j/i_got_tricked_out_of_winning_a_mini_cooper/
---
The Lego Star Wars Episode VII trailer is out and we love it! Check it out below and let us know below what your favorite part was:
---
Deadpool has been giving audiences a great movie experience due to the snark but still giving them a character they can connect with. Ryan Reynolds does a great job as Deadpoool breaking the 4th wall and making the viewer a part of the story. Before the movie was released their marketing team did a great job posters, billboards and ads that also broke the 4th wall. See some of them below.