°o° --------------------- °o°
Last week we learned that Disney Legend Jack Lindquist had passed away; he was 88. Jack leaves behind an amazing legacy at the Disney company.  Jack was born in Chicago on March 15, 1927 and moved to Los Angeles with his family at the age of 4. Jack was a child actor that appeared in episode of 'Our Gang' and even appeared alongside Hollywood's favorite redhead, Lucille Ball.  Before enrolling at USC, he was in the Air Force for 2 years. At the age of 28, his Disneyland career began.
In 1955 Walt Disney hired Jack to be the first advertising manager for the newly created Disneyland park. During his time there he became an influential part of the marketing team and quickly moved into the position of director and then vice president or marketing for both Disneyland in Anaheim and Walt Disney World in Florida. Jack helped establish many programs we see today like:
Disney Dollars
Grad Nite
Disneyland Ambassadors
Advanced ticket sales
the purchase of the Anaheim Angels
Jack served as the first President of Disneyland between 1990 until November 18, 1993 when he retired from the Disney company. In 1994 he earned the honor of being called a Disney Legend as he received a window on Main Street USA that reads:
J.B. Lindquist, Honorary Mayor of Disneyland

Jack of all trades – Master of Fun.
To commemorate the passing of Mr. Lindquist, we propose that a $3 Disney Dollar (to commemorate Jack's 3 years as President of the Disneyland) is issued as a collector's piece. We hope this happens. 🙂
Thank you for all your contributions, Mr. Lindquist.
---
The ticket prices have once again gone up but this time Disney adopted what other destinations call "seasonal pricing". This means that depending on the amount of people that Disney anticipates will be in the park that day will determine how much your ticket will cost. Every month the days will be split into one of the 3 categories: Value, Regular or Peak. A one-day pass was $99 but under the new structure, it will now be:
$95 for a "Value" ticket
$105 for a "Regular" ticket
$119 for a "Peak" ticket
Keep in mind that discounts will still be available for So-Cal residents for 2 and 3-day passes and will be priced as follows:
$149 for a 2-day, 1-Park Per Day Pass
$179 for a 3-day, 1-Park Per Day Ticket with Magic Morning
$189 for a 2-Day Park Hopper Pass
$219 for a 3-Day Park Hopper Ticket with Magic Morning
As of this post the calendar has not been posted but will be update you as soon as the info becomes available.
---
For the last several years we have gotten new iterations of the Disney Infinity game. Although each version brought new worlds, characters, and experiences, the were coming too soon and were becoming costly for most people considering many of the components and characters were backwards compatible. This year, Disney Interactive has taken a different approach. Here's a quick breakdown:
Version 1.0 of Infinity gave us a new way to play with DIsney characters. It introduced us to the Caribbean, Metroville and Monsters University. Although fun, the major flaw in the game was that characters could not step into each other's worlds. This helped keep each world "pure" but it wasn't a great player experience.
Version 2.0 of Infinity gave us Marvel superheroes. The new playset pieces and characters allowed us to be Iron Man, the Hulk, Thor, Black Widow and more. These characters and playset pieces (that determine the world you are playing in) were not compatible with the first version of the game. This meant that people that owned v1.0 were forced to buy the latest game disc and hardware to play.
Version 3.0 brought the Star Wars franchise to the Infinity universe. Along with those characters two new experiences that revolutionized the way that you play Infinity were introduced: the Toy Box Takeover and the Speedway. The Toy Box takeover finally allowed you to play any character that you wanted while still completing challenges. This was a feature that many were looking for since v1.0. Those familiar with Mario Kart will truly enjoy the Speedway play set piece which brought cart racing to Infinity. These pieces and characters are not compatible with hardware for v1.0 or v2.0. Again, this required people to but the latest version.
The biggest change this year is that Disney Interactive has decided that a new version of Infinity will not be released. Instead, they will be adding a new playset called the Marvel Battlegrounds which will bring new levels with 4 (local) player gaming .  Since this is a Marvel based playset all characters from 2.0 and 3.0 will be playable.  New Marvel characters will also be released including:
Captain America: The First Avenger
Vision
Ant-Man
Black Panther
and the Black Suit Spiderman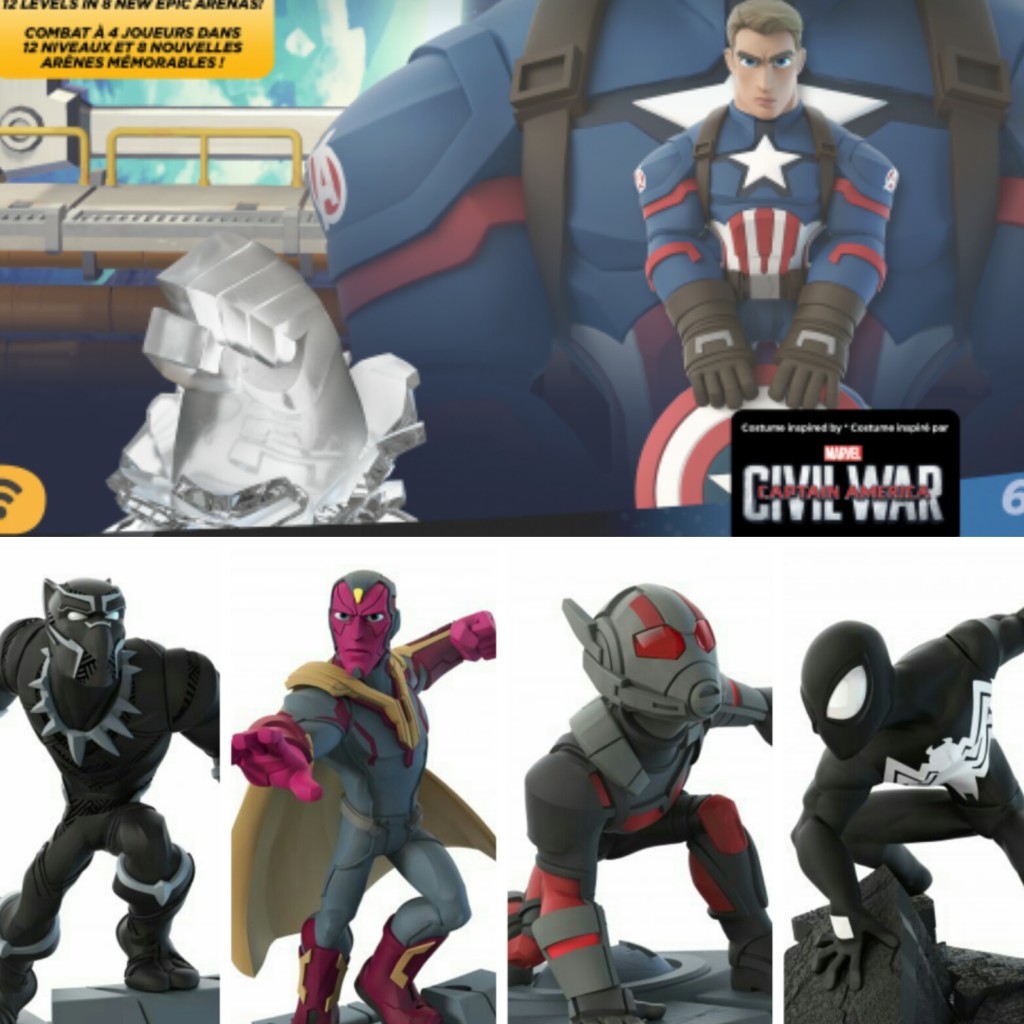 Are you a fan of Disney Infinity? What do you think of this announcement? Leave us a comment down below.
---
On February 15, 2016, the Disneyland Resort announced that the Mad T Party will be closing down. Their statement read:
For the past few years, Disneyland Resort guests have enjoyed all the splendiferous wonders of the Mad T Party, from the White Rabbit's mega mix of muchness to the most amazing and talented band this side of Wonderland.

Today, we want to let you know that Mad T Party will be serving up its final cup of curiosities at Disney California Adventure park on March 30, 2016. So all of you Mad fans out there will want to make plans to join Tweedle Dee and Tweedle Dum for one last spot of T. The Rabbit Hole will be open on weekends through March 13 and nightly March 18-30.
This happened last year when the popularity of Frozen took over Hollywoodland and replaced the Mad T Party with 'Freeze The Night' a very similar experience but themed around Frozen. Could this change be that they are bringing in an experience for this year's hit Zootopia? What do you think will be in Mad T Party's place? Are you happy that it's closing? Leave you comments below.
---
---
The popular Egg-stravaganza is back! Between March 2-27, 2016, eggs will be hidden around Disneyland, California Adventure, Downtown Disney, Walt Disney World and Epcot. Maps to record your finding will be available for %5.95 plus tax at the following locations (per the Disney Parks blog):
Disneyland Resort
Walt Disney World Resort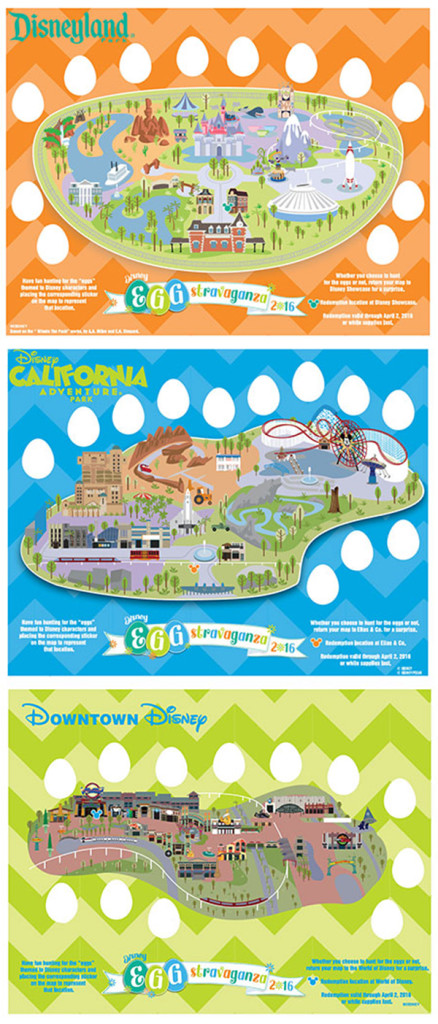 Once you're done and have found all the eggs, take your map (before April 2nd) to any of the locations below to redeem your prize:
Disneyland Resort
Walt Disney World Resort