This article was first published on (and appears on this website courtesy of) The DisInsider.
For more articles and entertainment news, please  visit TheDisInsider.com.
ALADDIN
Directed by:  Guy Ritchie

So, I would like to start by saying 1992's animated Aladdin is one of my all-time favorite films. Who doesn't know the words to all those iconic songs? Robin Williams Genie is one of Disney's greatest achievements in animation, with one of best Disney villains in Jafar, and side characters you come to know and love such as Abu, Iago, the Magic Carpet, and Rajah amongst others. All that aside, how does Disney's live-action adaptation stand up to it? Let us talk about it.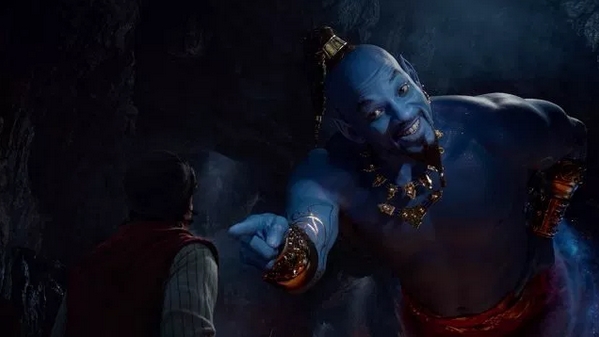 Will Smith as the Genie surprisingly works and is quite funny throughout the entire film, and you can tell he had a blast playing the character. Smith's Genie has little nods to Williams' Genie but still makes the role his own and in this case that's a good thing. He presents a unique Genie with his own quirks and captivating qualities. He brings such a fun energy to a story and character we all know and love. Will truly owns the movie with epic musical numbers and his onscreen chemistry with Mena Massoud, who plays Aladdin.
Speaking of Mena, before he was cast as Aladdin, you'd probably never heard of him. Well, you're going to now. Mena does a great as Aladdin. He's got that charm, the mannerisms, and the heart to anchor this tale's hero. Mena's Aladdin is a lot of fun from the moment you meet him. The same goes for Naomi Scott's Jasmine. Jasmine is no helpless princess in the live-action remake. She's not just Aladdin's love interest. She's so much more. She's a powerful woman determined to make her beloved Agrabah a better place for all. At one point, someone tries to silence Jasmine and Naomi belts out a fantastic new song for the film called "Speechless."
As with Disney's previous live-action adaptations like Cinderella, The Jungle Book and Beauty and the Beast, what follows hews fairly closely to the animated version, albeit with slight tweaks here and there. In this case, Ritchie and co-writer John August have expanded on the basic story of the original and added a couple of noteworthy and entertaining twists, while the actors especially Navid Negahban as Jasmine's father, the Sultan, and Marwan Kenzari as the Sultan's scheming vizier, Jafar have done commendable jobs turning in performances that set their portrayals apart from their animated counterparts.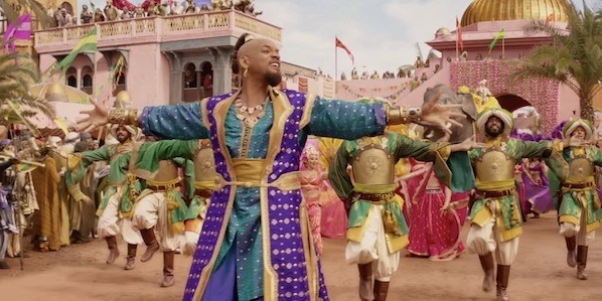 Song-wise, the film also stands up nicely against the original, with Alan Menken reprising his role as composer and Smith, Massoud and Scott each able to hold their own in lively new renditions of songs like "Arabian Nights," "One Jump Ahead," "Friend Like Me" and, of course, "A Whole New World." With eye-popping costumes and on dazzling sets wherever you look and listen.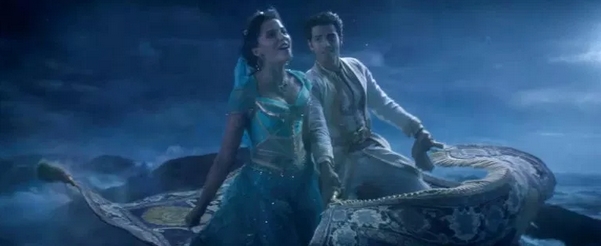 The Genie alone is a marvelous CGI creation as are all the tricks and magic he does throughout the movie (which Disney botched during the marketing). Other CGI standouts include  Abu, Rajah, Iago, and the Magic Carpet (which features exhilarating carpet rides). Match that with exterior filming in the deserts of Jordan, breathtaking production design, all of the positive messages about bettering ourselves, and you've got a great movie experience. 
Overall, I found this to be a successful remake and hope it's a surprise box office hit for Disney and Ritchie, who is still believe was the wrong person to direct. Also, another weak point for me is I was not a fan of Billy Magnussen's Prince Anders, as he was just a mindless, unfunny character that was not needed, that said he is in the movie for less than five minutes. All that aside, the spirit, romance, drama, and comedy of the original prevailed. Fans will not be disappointed and a new generation will be thoroughly entertained.
Score: 85%
Original article link:
https://thedisinsider.com/2019/05/22/aladdin-review-a-faithful-adaptation-to-a-beloved-classic/
Skyler is the proprietor of the website TheDisInsider.com where he frequently shares his thoughts on Disney (/non-Disney) film news, rumors about upcoming franchises, their directors and more. Aside from sharing his commentary and expansive insight into the world of the making of films, you can also occasionally catch him taking the co-host reins as a guest on our podcast!