°o° --------------------- °o°
To all who come to this wacky place, welcome! Quizneyland is your land. Here Andrew quizzes you on questions from the past… and here you may learn bits of trivia you may use in the future. Quizneyland is dedicated to the ideas, dreams, and hard facts that have created the Disney Company… with hopes that it will be a source of fun and information for all the world!
GET THE EXCLUSIVE FAIRY GODPARENT BUTTON!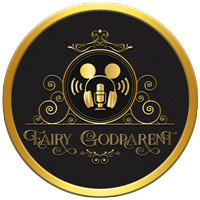 Being a part of the FGP Squad gives you access to additional content, giveaways and more! Plus, if you sign up for at least a $10 contribution you also get the exclusive Podketeers Fairy Godparent button as a thank you for your support!
If you would like to become a part of the FGP Squad family (aka one of our Podcast Fairy Godparents) you can use the 'Join the Squad' button below!