After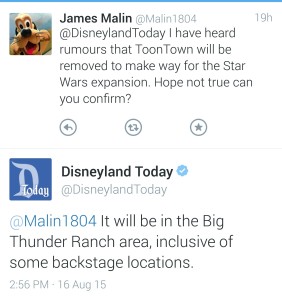 months of speculation Bob Iger officially announced at the 2015 D23 Expo that a Star Wars themed land is coming to the Disneyland and Walt Disney World resorts. A major concern for many guests was the placement since (unlike its Florida counterpart) Disneyland proper has very little space available. A recent tweet from user @Malin1804 asked the Disneyland resort if the rumor that Toon Town would be removed to make way for Star Wars Land was true. Disneyland responded by saying that the area where Big Thunder Ranch currently sits will be used. Behind the BTR area are offices and a backstage area which is where the new land will go. With Disney's recent land purchases surrounding the resort it would make sense to move the offices to one of those remote locations and expand the park in the direction. A couple of years ago this area was also the site where the rumored "Emerald City" would go. Unfortunately "
Oz The Great and Powerful
"didn't create a widespread phenomenon.
Concept art of the new lands are already circulating and the it looks amazing! The lands were announced to be 14-acres in size and with quotes like "It's going to be a whole new level, a whole new galaxy" and "You've never seen a cantina like this before" make it exciting to see the immersive world that will be brought to the resort. The new land will feature a ride simulator (which so far seems very similar to Star Tours) where you will pilot the Millenium Falcon and of course, the Star Wars Cantina.
Disney Imagineers have learned a lot from creating the upcoming "World of Pandora" Avatar land (coming to Disney's Animal Kingdom in Florida) so it's very exciting to see how the new tech that they've developed/learned from will be implement to not only give you a representation of a land but literally put you in it (similar to what Cars Land did for California Adventure).
Are you excited to see a new land come to Disneyland? Are you excited that it's Star Wars? Leave a comment down below.
—
Concept art: