°o° --------------------- °o°
In The Lego Batman Movie, the Bat Computer is voiced than Apple's own Siri and if you want to virtually dawn the cowl of the Dark Knight all you need is an iPhone. In a tie-in to the latest Warner Bros.' film, Apple has added a Siri Easter Egg for The Lego Batman Movie. To trigger it, launch Siri (hold your home button down to activate the microphone) then say either "Hey, Computer" or "Hey, 'Puter" (the Lego Batman voice is optional). Although we haven't confirmed the amount of responses that you can get from "'Puter", so far, it looks like it's limited to 1 of 6. They are:
"I am at your service, Lego Batman sir."
"How can I help you, Lego Batman?"
"Welcome home, sir. I have your rom coms queued up, sorted by decade,"
"Hello, sir. I've heated up your lobster thermidor in the microwave. I'm one step ahead of you, Alfred."
"Hello, sir. Alfred is on the 17th floor, caulking the tiles in the second bathroom of the fifth master bedroom."
"You have a message from the Condiment King. It says 'Pbbbffftttt!'"
"Welcome home, sir. FYI, Robin is trying on costumes in the Batcave again. He's doing from pirouettes in Batryshnikov."
Last month, Apple has used Siri to engage users with Super Bowl trivia and had a similar Easter egg to promote the film The Secret Life of Pets and was also programmed to have some quips and stats for Pokemon Go. So what do you think of the Easter Egg? Are you an Android user and feel left out? Let us know in the comments section below.
The Lego Batman Movie was directed by Chris McKay is currently in theaters.
At the 2016 New York Toy Fair Lego revealed it's newest pirate ship set called the Silent Mary. Coming in at 2,200 pieces, 26 inches in length and 18″ in height, this set is will set you back $200. Even though Lego is claiming that there are 8 characters included (because they are counting the masthead of the Silent Mary, it comes with 7 mini-fiures, they are:
Jack Sparrow, Captain Salazar, Henry, Carina, Lieutenant Lesaro, Officer Magda, and Officer Santos
It's a pretty cool looking set that ties in really well with the upcoming Pirates of the Caribbean: Dead Men Tell No Tales but the question still remains… will it float? 😉
The Silent Mary set will be released on April 1st, 2017.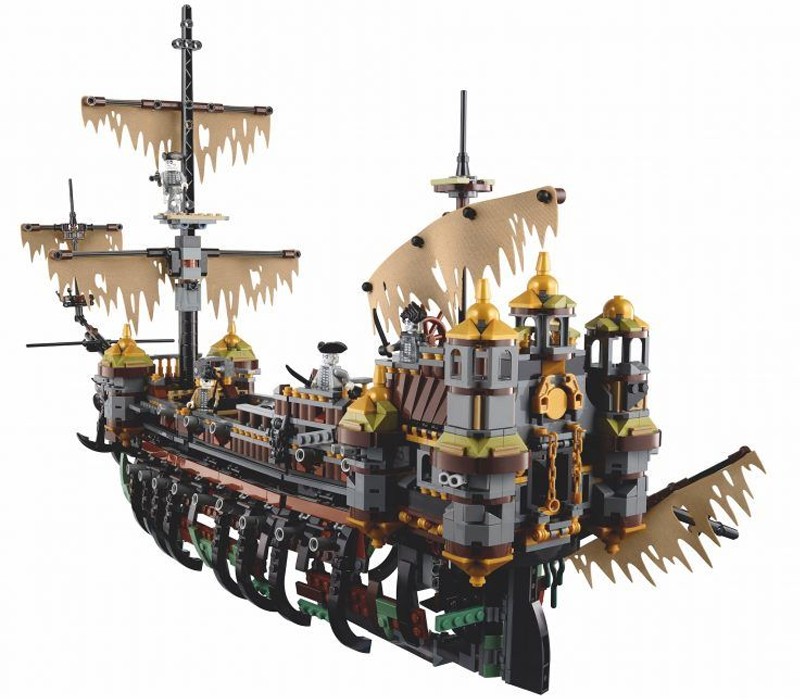 AP Days at Disneyland is in full swing at Disneyland. If you haven't seen the first 2 buttons, here are the photos we posted on our Instagram account!
On Monday afternoon, February 13, 2017, a handful of vehicles in the Mickey and Friends parking structure at Disneyland caught fire. Since recording this episode more details have become available. Originally reported as 8 vehicles damaged, the count has gone up to 9. The fire was reported shortly after 4:30pm by an Anaheim police officer and the Anaheim fire department was able to extinguish the the fire within 30 minutes. 4 vehicles were reported to be completely destroyed, 4 others had major damage and between 1-3 had minor damage. It is estimated that the total damage was about $180,000. Park guests were asked to remain on the ground floor of the structure as the fire fighters combated blaze. The original report stated that no foul play was suspected. Since then, detectives have stated that they believe that either the engine of an SUV or the cargo area of a hybrid vehicle (where the battery is kept) may have been be source of the fire.
This is very sad occurrence and we can't even begin to image how any of the families affected by this are feeling. We are very happy that no one was physically hurt by this fire and we send positive thoughts and our best wishes to all parties affected by this incident.
As a tie-in to the upcoming live-action adaptation of Beauty and the Beast, the Disneyland resort will have limited-time experiences in Fantasyland! As early as February 24, 2017, guests of the resort will be able to enjoy the following (directly from the Disney Parks blog):
Red Rose Taverne – This dining location at the northwest edge of Fantasyland will magically transform from Village Haus Restaurant into a lively French taverne, with delicious quick-service meals perfect for all ages! Adorned with beautiful murals depicting favorite scenes from Disney's animated feature, "Beauty and the Beast," and draped with inviting curtains, each room of Red Rose Taverne tells a different chapter of the tale as old as time. The menu will transform as well, featuring some of your favorite tastes with a French taverne-inspired twist, as well as new signature beverages. We'll have details to share on these delicious additions soon – and yes, you will be able to try our own version of the Grey Stuff. (I hear it's delicious!)

Royal Reception – This special merchandise location adjacent to Red Rose Taverne offers keepsakes, apparel and collectibles inspired by both the animated Disney feature as well as the new, live-action film, "Beauty and the Beast," in theaters March 17.

That Gaston – We all know Gaston loves a taverne, so don't be surprised if you find him preening around Fantasyland. Stop him and ask him to flex his biceps – he loves that.

Maurice's Treats – The celebration continues in nearby Fantasy Faire, where each twist on the menu at Maurice's Treats will be presented with … well … a twist! And those of you who have been clamoring for a dipping sauce to go along with your tasty twist will be pleased to know that marinara, strawberry and even Grey Stuff dipping sauces will soon be available.

The Royal Theatre Presents "Beauty and the Beast" – Be sure to drop by the Royal Theatre in Fantasy Faire as Mr. Smythe and Mr. Jones present their take on "Beauty and the Beast" in this daily favorite.
Disney Parks article link:
Beloved 'Beauty and the Beast' Story Coming to Life with Limited-Time Experiences in Fantasyland at Disneyland Park
We have to say that having-never gone to Walt Disney World to try the famous "grey stuff", we're happy that we'll finally have a chance to try it out. Are you looking forward to this experience? Let us know in the comments section below.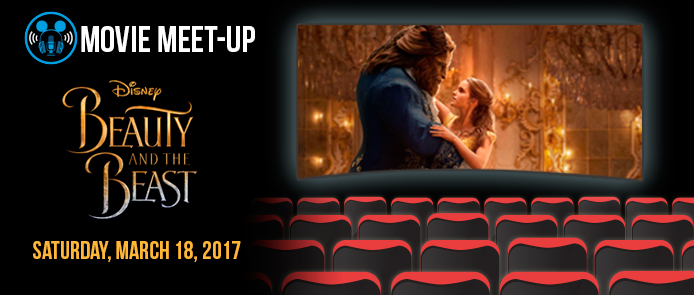 If you would like to join us for our movie meet-up to watch Beauty and the Beast, here is a the info at a quick glance:
AMC Downtown Disney 12
Saturday, March 18, 2017
Showing at 12:45pm
Standard Format (not IMAX)
We plan on being there at 12:00pm because the seats for standard format are not reserved. You can pre-order tickets using this link: https://www.atomtickets.com/movies/beauty-and-the-beast/206627
AMC Downtown Disney 12 is located at:
1565 Disneyland Drive
Anaheim, CA 92802
Across from Rain Forest Cafe and ESPN Zone in Downtown Disney.
If you have any questions, feel free to send us a message via one of our social networks (links below). Hope to see you there! 🙂