°o° --------------------- °o°
We now live in a world where people will say "Academy-Award Winning, Suicide Squad". Just let that sink in for a moment.
Disney bring in 3 wins with The Jungle Book  winning the award for Best Visual Effects, Zootopia for Best Animated Feature and Piper brought it home for Best Short Film (Animated).
Congratulations to all the winners (including Suicide Squad for their participation trophy Academy Award).
Auli'i Cravalho had a wonderful performance at the Academy Awards singing 'How Far I'll Go' from the Oscar-nominated film Moana. We have to give the assist to Lin-Manuel Miranda for the "original prologue" to setup the song!
Also, in case you were wondering how to pronounce her name, here is a video by USA Today with Dwayne Johnson learning to pronounce Auli'i Cravalho's name.
Although we weren't able to try the famous "Gray Stuff" or collect one of the collectible red rose cups, we did get a chance to try the Slow-cooked Beef Poutine (Slow-cooked beef and gravy over seasoned waffle-cut fries, pickled onions and cheese cruds, $10,99) and the Chicken Sandwich à la Lumière (Grilled chicken breast, apple slaw, onion-bacon jam, and fried cherry peppers on a toasted roll, served with pommes frites or sliced apples, $10.99).
The Slow-cooked Beef Poutine was tasty but there was very little gravy and topping on the fries. After a few bites you were basically left with dry waffle-cut fries so it would have been nice to get a bit more topping.
Chicken Sandwich à la Lumière was also very tasty but it really relied on eating it with the slaw and other additions otherwise the chicken was a bit bland (thankfully not dry). The one tip we could give about getting this sandwich is to make sure everything is spread out in the sandwich.
Below is the current menu selections available for a limited time.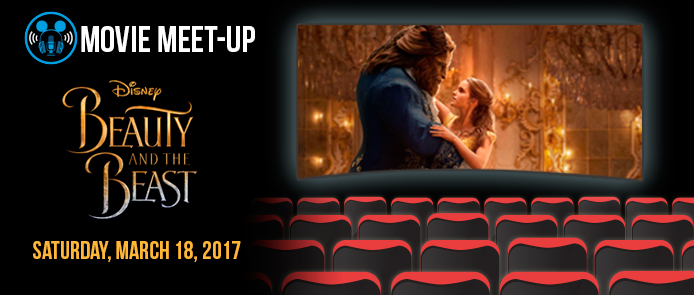 We'd love for you to join us for our next movie meet-up to watch Beauty and the Beast! Here's the info:
AMC Downtown Disney 12
Saturday, March 18, 2017
Showing at 12:45pm
Standard Format (not IMAX)
We plan on being there at 12:00pm because the seats for standard format are not reserved. You can pre-order tickets using this link: https://www.atomtickets.com/movies/beauty-and-the-beast/206627
AMC Downtown Disney 12 is located at:
1565 Disneyland Drive
Anaheim, CA 92802
Across from Rain Forest Cafe and ESPN Zone in Downtown Disney.
If you have any questions, feel free to send us a message via one of our social networks (links below). Hope to see you there! 🙂