°o° --------------------- °o°
For months we've known that Thanos kills many during the events of Avengers: Infinty War (don't worry we won't mention who) but were you spared by Thanos? A new website will let you know if you were sacrificed for the betterment of the planet or if you were spared. To find out, go to:
Post your results and tag us!
** NEW Disney For 2 VLOG **
THE ONE WHERE WE SEE GABBY AND JOURNEE FROM AMERICAN IDOL AND TRY MORE PIXAR FEST FOOD! In this vlog we meet up with Belinda and her son Troy to try more of the Pixar Fest food. We try a couple of new sandwiches and the Lotso Funnel Cake from Hungry Bear. And we also try the UP Tart and the UP Merit Badge Eclair from Jolly Holiday.
We always have letting our imaginations fly high during our blue sky sessions! If you like any of our Disney After Dark event ideas or have any of your own leave a comment in the section below!
Our friend Jason's daughter just started a new clothing line with some great designs, make sure to follow her on Instagram!
Some of the music in this episode was mixed by DJ AG! Make sure to check out his Soundcloud link and follow him for more cool tracks! The song Star Wars – Cantina Band (DJ AG Remix) can be heard below.
GET THE EXCLUSIVE FAIRY GODPARENT BUTTON!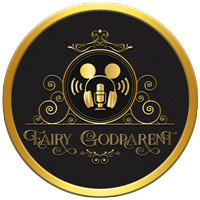 Being a part of the FGP Squad gives you access to additional content, giveaways and more! Plus, if you sign up for at least a $10 contribution you also get the exclusive Podketeers Fairy Godparent button as a thank you for your support!
If you would like to become a part of the FGP Squad family (aka one of our Podcast Fairy Godparents) you can use the 'Join the Squad' button below!