°o° --------------------- °o°
Melissa had a chance to check out the Popzilla! Gallery tribute show Spielberg last weekend. She mentioned that her friend Clark Silva was in the show and we wanted to show you the piece that we talked about in this episode (the dia de los muertos-style Groot). You can also check out some of the photos that Clark took at the show below!
As reported in this episode, the original Iron Man suit worn by Robert Downey Jr. has gone missing. The suit was taken from a prop storage facility in Pacoima, CA and is valued at $325,000. ABC 7 in Los Angeles reported on the incident (below).
Looking to buy Black Panther? Maybe Thor: Raganarok? Help us out by ordering using our link!  Just click one of the little Amazon banners to order!
In a very scary situation, the Maleficent dragon in the Festival of Fantasy parade at Walt Disney World caught fire this last week. Thankfully no one was injured as cast members were able to move guests away from the danger zone and extinguish the fire. As of this post, no information is available on why or how the fire started.
Quick shout-out goes out to the cast members that acted quickly in keeping everyone safe during this situation!
Last week the Disneyland Resort hosted Disney Channel GO! Fan Fest which hosted the stars from several Disney Channel shows including Ducktales, BUNK'D & Bizaardvark, Raven's Home, Andi Mack & Stuck in the Middle plus the DCOMs ZOMBIES, Freaky Friday and Descendants 3! In case you were not able to attend, here are the panels from the event.
GET THE EXCLUSIVE FAIRY GODPARENT BUTTON!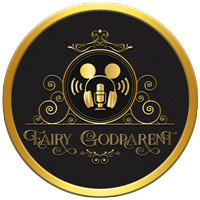 Being a part of the FGP Squad gives you access to additional content, giveaways and more! Plus, if you sign up for at least a $10 contribution you also get the exclusive Podketeers Fairy Godparent button as a thank you for your support!
If you would like to become a part of the FGP Squad family (aka one of our Podcast Fairy Godparents) you can use the 'Join the Squad' button below!