°o° --------------------- °o°
Granting Wishes
The Make-A-Wish Foundation has been granting wishes since 1981. In 2015, the Disney Company and the Make-A-Wish Foundation granted their 100,000th global wish together!
Back to present day, Disney if once again holding their #ShareYourEars campaign and donating $5 (up to US $2 million) for every image publicly posted on Facebook, Instagram or Twitter with #ShareYourEars. Don't wait! Go post your ears today! The campaign runs from 11/4–11/17/18!
Using one of these links will take you to Amazon using our personal referral link which may result in us collecting a small commission from your purchase.
Making a Difference
On November 4, 2018, Teamboat Willie participated in City of Hope's Walk for Hope event in Duarte, CA! Our goal was to raise $1000 that could be used to help find a cure for woman's cancers. Although we only hit about 70% of our goal, we were extremely proud to be a part of the event and would like to thank everyone that helped us get that close to our goal. 
This year,  Chairman of Parks, Experiences and Consumer Products at the Disney Company, Bob Chapek, served as Chair for the Walk For Hope which was amazing! we also had a chance to see Mickey and Minnie in their track suits that morning. PLUS, you can kinda see Heyzen, Gavin and Melissa in the Disney Parks Blog video about the event!
Luxo Jr. arrives!
In case you didn't have a chance to see it, check out the video of Luxo Jr. at the entrance of Pixar Pier posted by @DisneyFor2!
GET THE EXCLUSIVE FAIRY GODPARENT BUTTON!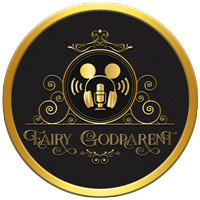 Being a part of the FGP Squad gives you access to additional content, giveaways and more! Plus, if you sign up for at least a $10 contribution you also get the exclusive Podketeers Fairy Godparent button as a thank you for your support!
If you would like to become a part of the FGP Squad family (aka one of our Podcast Fairy Godparents) you can use the 'Join the Squad' button below!
In this episode we mentioned a large screen in Las Vegas that overlooks an old part of the Vegas Strip. Check out the video of the giant LCD screen below.
We also talked about the waterfalls that used to be at the Disneyland Hotel. We found 2 videos showing the "Bonita Tower Waterfalls". The area was officially closed in August 2010 to be demolished as part of the renovation of the hotels.  We think that an addition like this would really breathe new life into Downtown Disney!