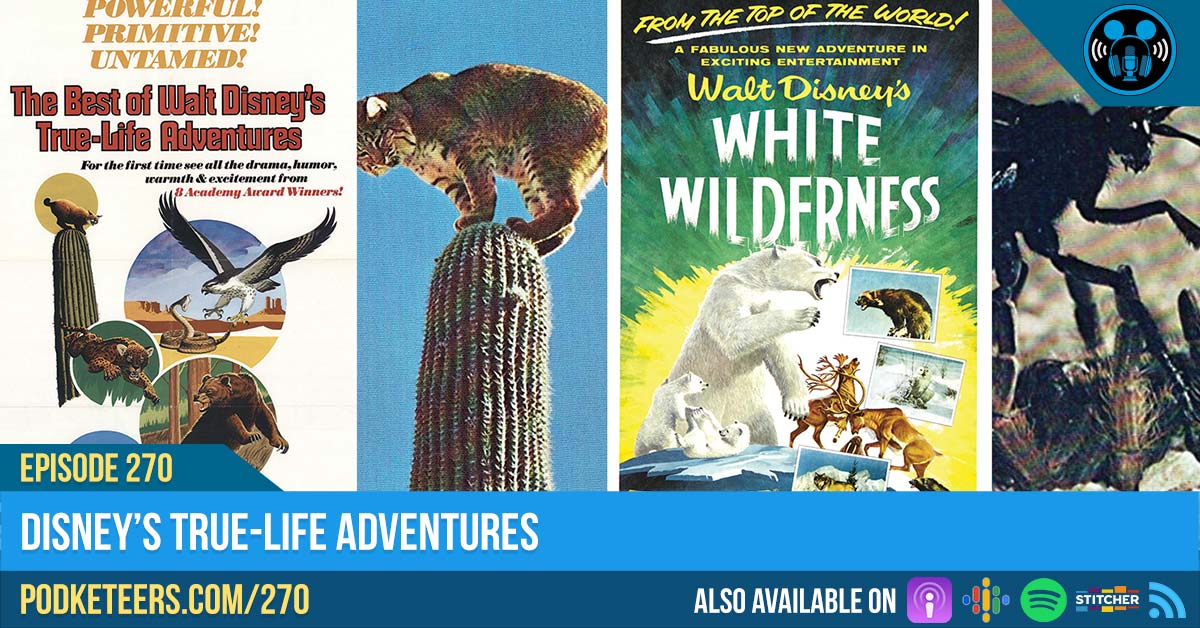 Ep270: Disney's True-Life Adventures

Podcast: Download (Duration: 1:13:40 — 60.2MB)
Subscribe: Apple Podcasts | Android | Google Podcasts | Stitcher | Spotify

50 years of happy haunts
From dancing through New Orleans Square, the Scareolers singing classic Halloween tunes, the Ghost Host making his presence known throughout the park, and even the 13th Hour opening show, the Haunted Mansion 50th Celebration truly was a swinging wake!
Frightening Festivities
Unfortunately we don't have video of this event but we wanted to share some of the ones that we watched showing off some of the festivities during the Haunted Mansion 50th Anniversary event! Here are some videos by Adam the Woo, LIFE Disney and Beyond, Provost Park Pass, Laughing Place and DAPS Magic!
In this episode we also talked about some of the videos we've previously posted from Mickey's Halloween Party. If you missed them or are new to our channel/podcast, here are the videos that we posted of the Frightfully Fun Parade, the Scareolers performing at Downtown Disney and the Cadaver Dans singing on the Rivers of America.

The birth of nature documentaries
The True-life Adventure series was a collection of 14 full-length documentary-style films produced by Walt Disney Productions released between December 1948 and March 1960. Over the course of its run, the series was awarded 8 Academy Awards and even inspired a daily panel comic strip. The films in the series are:
Seal Island [December, 21, 1948]
In Beaver Valley (a.k.a. Beaver Valley) [July 19, 1950]
Nature's Half Acre [July 28, 151]
The Olympic Elk [February 13, 1952]
Water Birds [June 26, 1952]
Bear Country [February 5, 1953]
Prowlers of the Everglades [July 23, 1953]
The Living Desert [November 10, 1953]
The Vanishing Prairie [August 17, 1954]
The African Lion [September 14, 1955]
Secrets of Life [November 6, 1956]
Perri [August 28, 1957]
White Wilderness [August 12, 1958]
Jungle Cat [August 10, 1960]
For the love of nature
In April 2008, Disney launched a new series of nature documentaries under the film unit Disneynature. Since its inception, Disneynature has produced 16 films with plenty of Hollywood power behind them with narrators like James Earl Jones, Pierce Brosnan, Natalie Portman, Tim Allen, Tina Fey, Morgan Freeman, Samuel L. Jackson, and more. The current catalog consists of the following films:
The Crimson Wing: Mystery of the Flamingos (US Release 2010)
Earth (North American release 2009)
OceanWorld 3D (North American release 2009, Cannes Film Festival)
Oceans (US release 2010)
Wings of Life (Worldwide release 2011)
African Cats (Worldwide Release 2011)
Chimpanzee (Worldwide release 2012)
Bears (Worldwide Release 2014)
Monkey Kingdom (Worldwide release 2015)
Growing Up Wild (Worldwide release 2016)
Born in China (US release 2017)
Ghost of the Mountains (US release 2017)
Expedition China (Worldwide release 2017)
March of the Penguins (US release 2018, exclusively on Hulu)
Dolphin Reef (US release 2019)
Penguins (US release 2019)
Oh! By the way, in case you missed it, we posted a vlog from this year's CHOC Walk on our YouTube channel! 🙂
Using one of these links will take you to Amazon using our personal referral link which may result in us collecting a small commission from your purchase.