°o° --------------------- °o°
Super Mario World Opens!
Super Mario World has opened and we're getting our first looks into the new land and attractions at Universal Studios Japan. As discussed in this episode, there are some things we like and dislike about the new Mario Kart attraction. Below you'll find videos for the "with AR glasses" and "without AR glasses" versions. Once you've had a chance to watch the videos, what did you think of the attraction?
"The Beginning of an Electric Journey"
Since 1911 Chevrolet has been a well known brand in the vehicle industry and this year they're unveiling their All-Electric Chevy Bolt EUV and the redesigned Bolt EV.
To help with the reveal, Chevy has teamed up with Walt Disney World to show "how magic can take place when the imagination is electrified." The two vehicles will be officially unveiled on February 14, 2021 and will be available for purchase in the summer of 2021.
We're not sure how many more commercials Chevy will be doing along with Disney in this series but check out the two current releases below:
JOIN US FOR OUR NEXT EVENT!
We are excited to announce that we'll be participating in the first ever Virtual CHOC Walk to benefit the Children's Hospital of Orange County!
 or the first time, this year's walk will be a virtual experience! Even though this year has been a less than optimal we still want to do what we can to help the children at CHOC!  
You can make a difference by making a donation using the link below or by joining our team to help raise money! Our current goal is to raise $1000. We would also like to encourage you to share our donation link as we work towards building a better future.
Together we can MAKE A DIFFERENCE! Thank you for your support!
LET'S DO THIS!
GET THE EXCLUSIVE FAIRY GODPARENT BUTTON!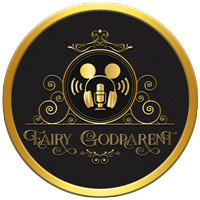 Being a part of the FGP Squad gives you access to additional content, giveaways and more! Plus, if you sign up for at least a $10 contribution you also get the exclusive Podketeers Fairy Godparent button as a thank you for your support!
If you would like to become a part of the FGP Squad family (aka one of our Podcast Fairy Godparents) you can use the 'Join the Squad' button below!