°o° --------------------- °o°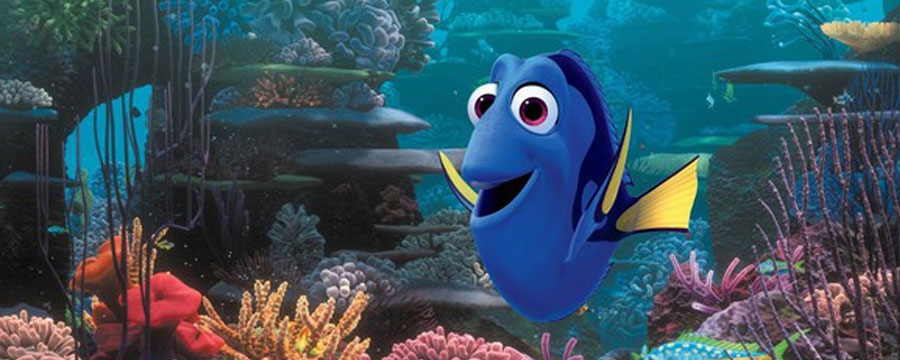 Finding Dory closed out its first weekend by making  over $135 million in the U.S. alone and took the top stop of best animated movie opening knocking off Shrek the Third which held the title with $121.6 million. Overall, Finding Dory comes in at #19 as far as opening weekends are concerned. Have you watched Finding Dory yet? Let us know what you think below.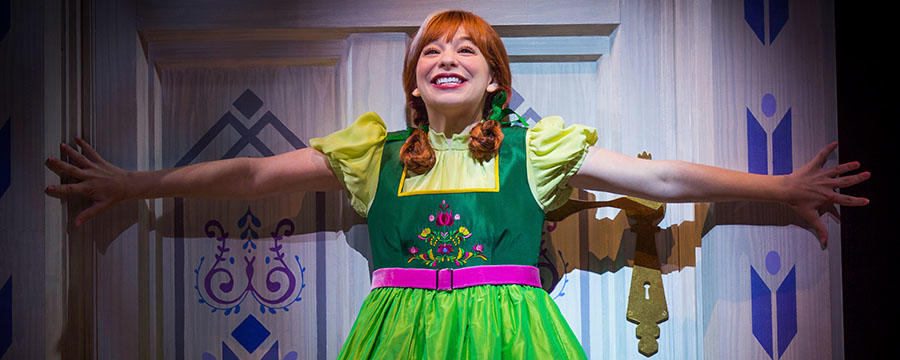 New meal plans are coming to accompany the Frozen – Live at the Hyperion show at California Adventure. Here are the descriptions direct from the Disneyland website:
Frozen Pre-Show Package
Take your viewing experience to the next level with access to priority seating—and relish in a fun-filled social before the curtain rises.
Price: $49 per person, +tax
Chill with family and friends while enjoying refreshments, photo ops and more at a festive, Frozen-themed celebration prior to the live show.
This one-of-a-kind gathering commences at Stage 17, which has been transformed into a charming castle courtyard within the wintery world of Arendelle. Drift inside and let the glistening ambience enchant you with its beauty.
As you wander round, you'll soon discover the following Frozen delights sprinkled throughout the sprawling space:
A shave ice treat
A beverage station with a selection of beer, wine and non-alcoholic beverages
Three photo op locations that grant you the chance to seemingly step into the wintry world of Arendelle
A gallery of original art designs that were used to create the Frozen – Live at the Hyperion stage show
A Magical Snow Moment, in which a royal announcement invites you to join in a magic spell to summon Elsa's ice powers
When this breezy, magical reception winds down and it comes time to move on to the main event, you'll be whisked off to the nearby Hyperion Theater and land in your coveted, priority seats.
Frozen Pre-Show Plus Lunch Package
Feast on a delicious 3-course meal at Carthay Circle Restaurant, and then enjoy the spectacular live production.
Price: $99 per adult and $79 per child (ages 3 to 9), +tax and gratuity
Prepare your palette for a royal 3-course lunch and pre-show gathering before the performance.
Your jaunt begins with a glamorous visit to Hollywood's Golden Age, where you'll indulge in a delicious 3-course meal in the dining room of the Carthay Circle Restaurant—an iconic eatery modeled after the theater where Walt Disney's animated classic, Snow White and the Seven Dwarfs, debuted in 1937.
Once seated, whet your appetite with a stunning starter duo of a soup and salad. Then, choose from 4 main dishes such as chilled red shrimp with coconut-lime mousse, avocado and mango vinaigrette or the grilled Angus tritip with Point Reyes blue cheese risotto, spinach and wild mushrooms. A special kids menu includes a soup or salad and a splendid selection of Mickey Check Meals like mini crispy tacos and a soba noodle bowl.
Everyone—big or small—should save room for something sweet, as Olaf's Summer Dream Vacation is a delightful dessert.
When this culinary journey comes to a close, your next experience will soon be underway. Approximately 1.5 hours before the performance, you'll check in at Stage 17 for a special pre-show gathering featuring Frozen-themed magical moments and an assortment of chilled offerings. Then, when this breezy, magical reception winds down, you'll be invited to the theater and seated in a reserved area for your viewing of the spectacular theatrical production of Frozen – Live at the Hyperion.
Frozen Signature Dining and Behind-the-Scenes Package
Feast on a delicious 3-course meal at Carthay Circle Restaurant, and then enjoy the spectacular live production.
Price: $299 per person, +tax and gratuity
Embark on the ultimate VIP adventure featuring a pre-show gathering, priority seating, guided backstage tour and a sumptuous 4-course meal!
Your royal experience kicks off with a fun-filled pre-show gathering* at Stage 17, which has been transformed into a charming castle courtyard within the wintry world of Arendelle. During this celebration, you can sip on refreshments, enjoy shave ice, snap photos with Frozen-themed backdrops, and more!
Next, you'll glide over to the Hyperion Theater, slip into your priority seat and take in the spectacular new theatrical production inspired by Frozen.
Once this mesmerizing musical comes to an end, you'll have the opportunity to step behind the curtain for a glimpse of the show's elaborately designed costumes, as well as get your photo taken on the performance stage.
Then, for the ice-ing on this sweet venture, anticipate a 4-course prix fixe dinner to remember at the elegant Carthay Circle Restaurant. As you sit, relax and absorb the retro-glam ambiance, you can take blissful bites of fine fare including the braised short rib ravioli with morel mushrooms and English pea coulis and a showstopping dessert—Olaf's Summer Dream Vacation.
*You will have the chance to choose between 2 pre-show gathering times.
For reservations you can use the 'Check Availability' tool on the Disneyland website or call Disney Dining at (714) 781-DINE (3463) between the hours of 8:00 AM and 9:00 PM daily. Guests must be 18 years of age or have parent or guardian permission to call.
'Frozen Ever After' is the newest dark ride attraction at Epcot which took the place of Maelstrom in the Norway Pavilion. It opened on June 21, 2016 to a 5-hour line! The ride looks way better than we anticipated. The animatronic Olaf is adorable and we just want to have one running around our houses now. The Elsa animatronic was one of the best things on the attraction as she sings her signature tune Let It Go. The fluidity  of her movements is some of the best we've seen in animatronic, well, ever! The folks over at Attractions Magazine put up a video after (possibly) enduring a 5 hour opening day line.
'Maelstrom' was dark ride in the World Showcase at Epcot in the Norway pavilion. It originally opened on July 5, 1988 and had its final ride on October 5, 2014 to make room for 'Frozen Ever After'. To experience all the "excitement" of Maelstrom, check out the video below:
When Walt Disney decided to make his mark at the 1964 World's Fair, he asked a young lad by the name of Rolly Crump to create a stunning visual marquee full of life to cloak the fact the at the It's A Small World attraction building was so plain. Enter the 'Tower of the four winds'. After building a "working" 12-inch model for Walt, the project was greenlit and the firm of Taggart and Cass was brought in to help engineer the structure. Unfortunately many of the things that made the tower charming were changed due to concerns of the winds in New York. One of our exchnages between Rolly and Walt happened shortly after the tower was built:
Walt: "Well Roland, what do you think?"

Rolly: "I think it's a piece of crap.

Walt:"'It can't be a piece of crap, it cost me $200,000! Besides I like it."
The phrase "Meet Me Beneath the Tower of the Four Winds" became a staple of the World's Fair as people would meet under the 12 story structure.  We think it would be great to build something near the current It's A Small World attraction as an homage to the original tower!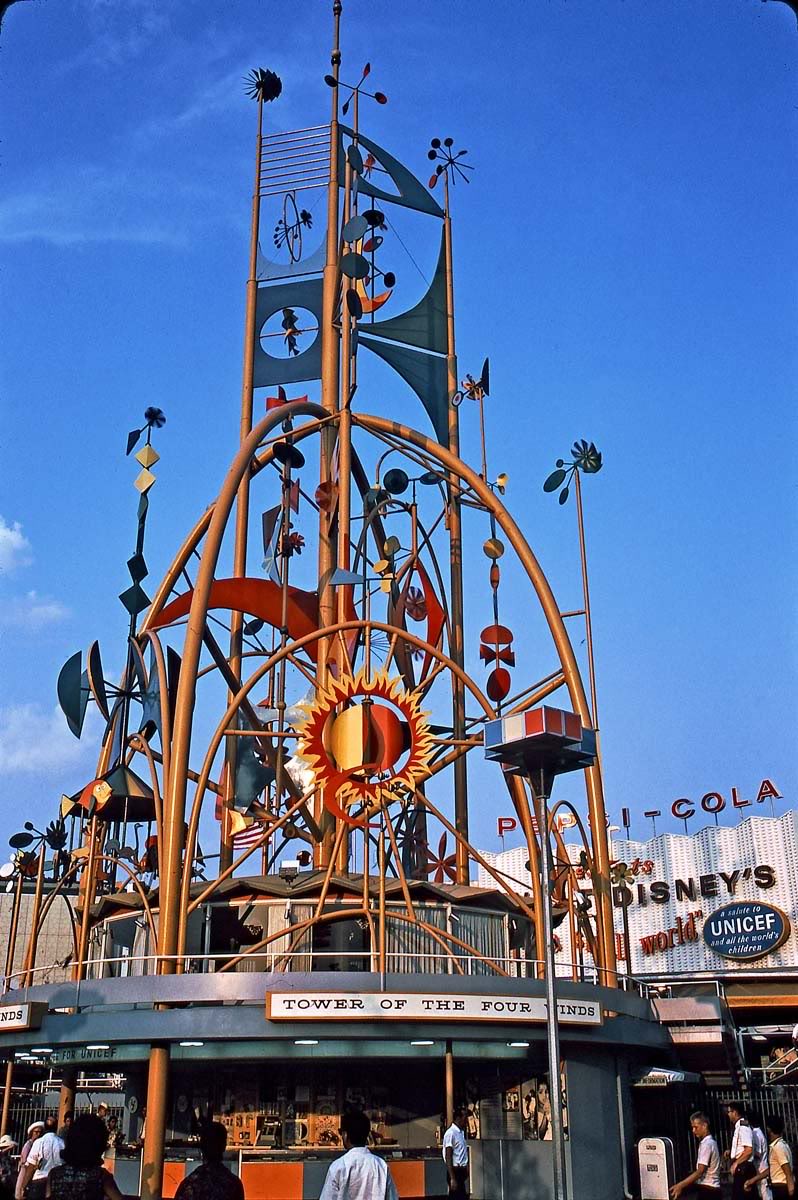 The 'Museum of the Weird' exhibit at Creature Features in Burbank, CA was really fun. Over 70 pieces were on display as a tribute to one of Rolly Crump's ideas that never made it off the drawing board. Below are some photos from Instagram. A write-up and some photos from the event can me found on Heyzen's personal blog here: