°o° --------------------- °o°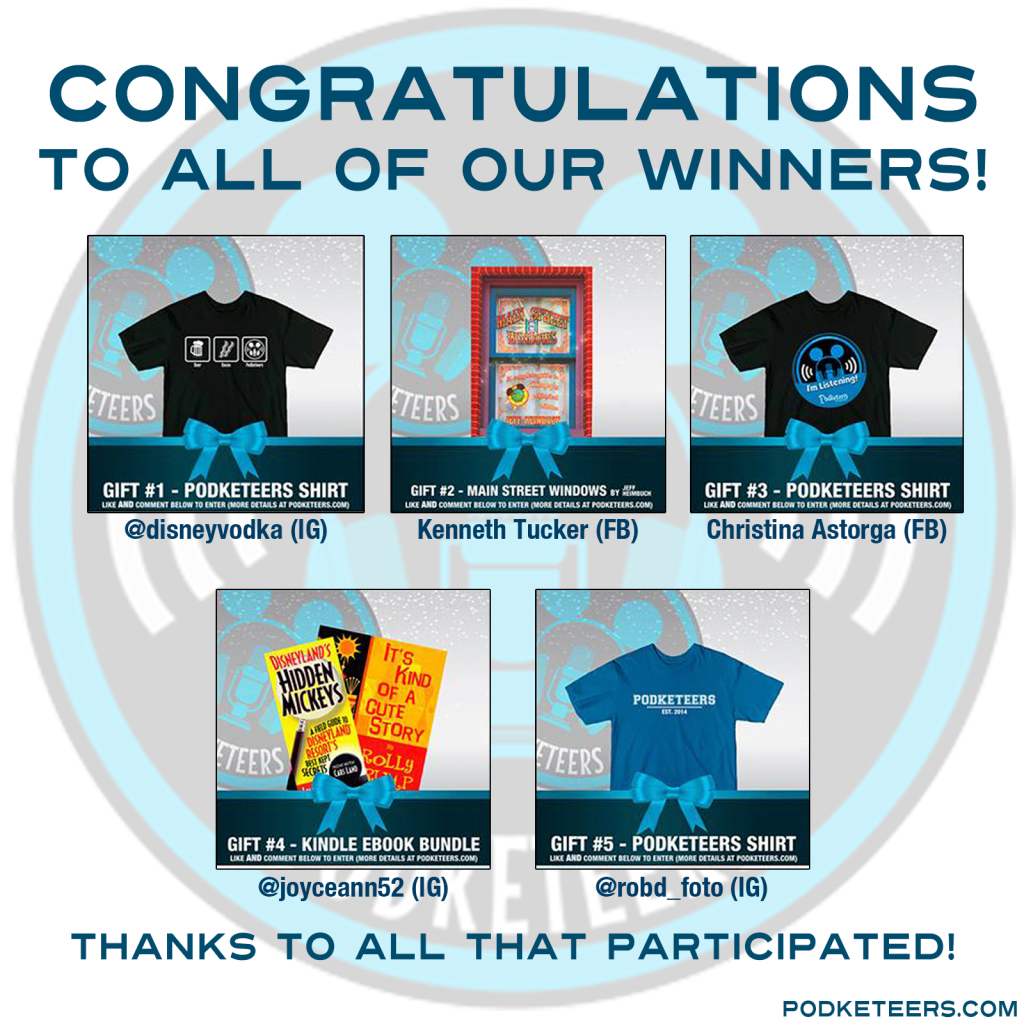 Congratulations to all of the winners of our holiday contest! We had a such a great response to the contest and were humbled by the response! Over 100 individuals submitted entries for the contest combined between Facebook and Instagram! Thank you all so much! The winners were:
@disneyvodka (on Instagram) – Podketeers shirt
Kenneth Tucker (on Facebook) – 'Main Street Windows' book
Christina Astorga (on Facebook) – Podketeers shirt
@joyceann52 (on Instagram) – Kindle eBook Bundle
@robd_foto (on Instagram) – Podketeers shirt
——
Javier starts off the podcast talking about his favorite Goofy cartoon (Goofy Gymnastics). If you've never seen it, check it out below. During the podcast I mention that during the era that these cartoons were released Goofy didn't talk much because he didn't have a voice. The original voice of Goofy was Pinto Colvig and in 1939 he had a falling out with Disney leaving no one to voice Goofy. This led to the release of Goofy cartoons with minimal dialogue during the the 1940's. These cartoons generally had a narrator explaining what Goofy was doing and pre-recorded Goofy clips. The first set of these cartoons were called the "How-to" series and was followed up by the "Everyman" series.
https://www.youtube.com/watch?v=OPVXU3N-Bao
The Goofy Holler
Did you know that the "Goofy Holler" is a stock sound effect created by yodeller Hannès Schroll and was originally created for the short 'The Art of Skiing'? Since then it has been used in movies like Cinderella, Pete's Dragon and Enchanted.
—-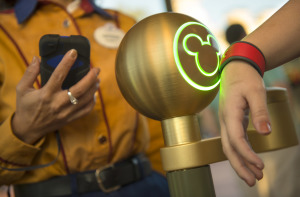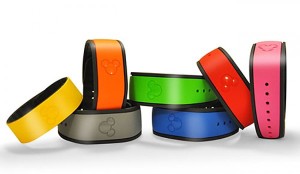 Disney's Magic Bands are a way to connect yourself to your vacation (currently at Walt Disney World) by allowing you to pay for goods/services, grant you access to the park and also serve as your FASTPASS(es). The RF technology (which can also be read by NFC enabled phones) holds generally info about you, your family, credit cards, etc. As of this episodes release, Magic Bands are $12.95 each but are included for free is staying at one of the resort hotels (WDW) or if you're a WDW Passholder. One of the coolest Easter Eggs of the Magic Bands is that you can unlock something called 'Dragon's Gate' and a flying dragon in Disney's Infinity 1.0 game and also the 'It's A Small World' facade in the 2.0 counterpart.  check out the videos below. Have you used these Magic Bands yet? What was your experience with them? Let us know down below.
Beginning December 12, 2014 you will be required to obtain a FASTPASS to see Fantasmic! from one of the assigned seating areas. This is similar to what Disney has done with 'World of Color' over at California Adventure. The primary difference is that you can also obtain a FASTPASS for FANTASMIC! but purchasing a meal at the Blue Bayou (inside Pirates of the Caribbean), get the table-service package at River Belle Terrace (in front of the Rivers of America) or an all desert menu at the Hungry Bear restaurant in Critter Country. Do you think this change will help the flow in New Orleans Square during FANTASMIC! or will it cause issues? Leave your comments below.
—-
If you're interested in helping someone out this holiday season, here are 3 local listener projects to help make the holiday season a little bit better (click on any image for a larger view):