°o° --------------------- °o°
Disneyland Candy Canes! Thanks to Heyzen's wife, Lynette, we all finally got a chance to try Disneyland's famous candy canes. The verdict? They're pretty darn tasty! They have just the right balance of crunch yet airy texture and just the right amount of enjoyable peppermint flavor. Check out these pics of the canes being made shot by Lynette while she was waiting.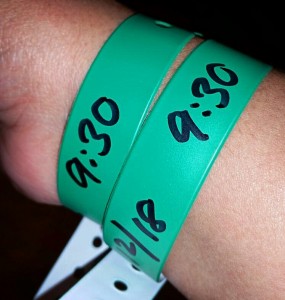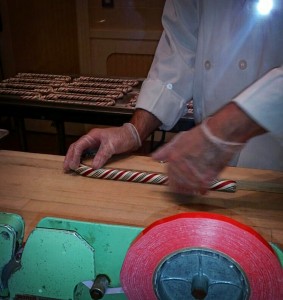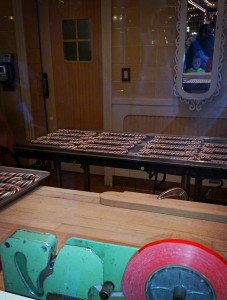 ---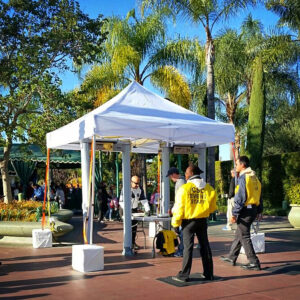 Disneyland, Universal and SeaWorld have beefed up security by installing metal detectors this past week with the intention of increasing the feeling of security among visitors. Disneyland, Anaheim has installed 16 metal detectors on both sides of the esplanade that allow entrance into Disneyland and Disney California Adventure along with 2 at the Monorail station in Downtown Disney. This is just the most recent addition as uniformed Anaheim police and even bomb sniffing dogs have been seen around the entrances as part of an effort for heightened surveillance. Some have been a bit concerned about the "random selection process" and say that everyone should go through them. In lieu of the recent events around the world and here in Southern California we're glad these changes are being implemented and agree that everyone should go through them. Back in July an armed man was arrested just outside the Disneyland gates with a loaded gun (past the bag check area).
A couple more changes that came along with the new hardware at the gates is that now you are not allowed be have a mask or be in costume if you're over the age of 14. Visitors will also no longer be able to carry toy guns into the park or buy them at any of the park stores. At the time of this recording we were unsure if that would include the Buzz Lightyear replica guns from the Astro Blasters ride and we can now say that sale of those toys is being banned as well along with any squirt guns sold in the park. How do you feel about all the newly added security measures? Leave your comment down below.
---
Star Wars Episode VII: The Force Awakens broke all existing records this past weekend when it finally premiered. As we record the episode it had already made $57 million before the end of that day and by the end of the weekend it had made $248 million… domestically. Domestically! That's not including world-wide numbers. Many people are watching this over and over and that's definitely helping with the record breaking numbers. We reposted this image by the  Hollywood Reporter on our Instagram outlining the highest opening weekend movies and what the grossed overall.
---
Fuller House has a trailer now! We didn't think we were going to get as excited as we did over watching this trailer. Were/are you a fan of the original Full House? Let us know in the comments section below. Fuller House premieres on Netflix on February  26, 2016.
---
Here is the Netflix socks that we were talking about in this episode. What do you think? Yay or Nay? Leave your comment below.
In case you were curious about the button called the Netflix Switch was positioned as an easy way to change your lighting, bring up Netflix on your TV, turn off text/email notifications on your device(s), order pizza and give you a massage while you're watching TV. Ok, so the last one is just wishful thinking but here is the Netflix Switch video: