°o° --------------------- °o°
Princess Elena of Avalor will be the newest Disney Princess premiering this summer. The 16 year-old Princess Elena will have her own spin-off of the animated Disney Junior series, Sofia the First. The story will revolve around a amulet that Sofia wears on her show. The story will follow Elena's adventures as she breaks free from the amulet that she was trapped in by the evil sorceress Shuriki long ago. When Sofia learns that Elena is trapped in her amulet, she sets out to free her and help her in returning to her Kingdom or Avalor. Just before staring in her own series, Elena will debut on a special episode of Sofia The First that will help introduce her.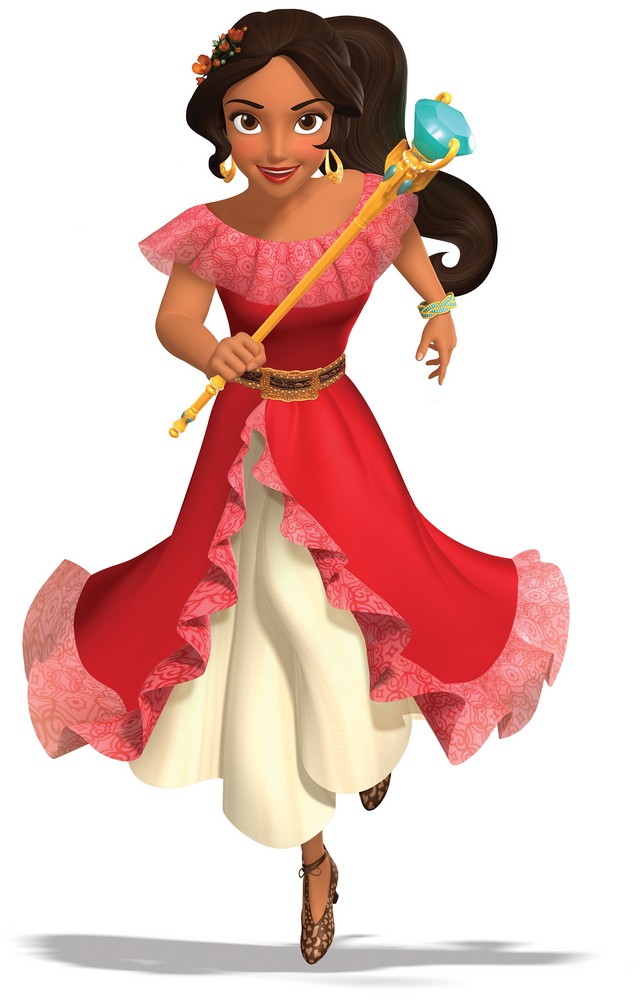 How do you feel about Disney's first Latina Princess? Leave a comment down below.
---
As Disney Channel gets ready to celebrate the release of their 100th Disney Channel Original Movie (or "DCOM"), they plan to air the 99 movies that came before it. This Memorial Day weekend they will kick it off with a 4-day marathon that will air the 51 most popluar movies and trickle in the remaining 49 throughout  June leading up to the release of Adventures in Babysitting.  Here is the schedule for Memorial Day weekend:
Friday, May 27
10:00 a.m.: Kim Possible Movie: So the Drama
11:20 a.m.: Read It and Weep
12:55 p.m.: Wendy Wu: Homecoming Warrior
2:40 p.m.: Jump In!
4:15 p.m.: Lemonade Mouth
6:15 p.m.: Zapped
8:00 p.m.: High School Musical 2
9:55 p.m.: The Cheetah Girls 2
11:45 p.m.: Zenon the Zequel
1:25 a.m.: Halloweentown II: Kalabar's Revenge
2:55 a.m.: Twitches Too
4:25 a.m.: Alley Cats Strike!
Saturday, May 28
6:25 a.m.: You Wish!
8:05 a.m.: The Proud Family Movie
9:50 a.m.: Quints
11:25 a.m.: Horse Sense
1:10 p.m.: Cow Belles
2:50 p.m.: Twitches
4:30 p.m.: The Even Stevens Movie
6:15 p.m.: Wizards of Waverly Place: The Movie
8:00 p.m.: Camp Rock 2: The Final Jam
9:50 p.m.: Princess Protection Program
11:30 p.m.: The Cheetah Girls: One World
1:05 a.m.: Zenon: Z3
2:40 a.m.: Halloweentown High
4:20 a.m.: The Thirteenth Year
Sunday, May 29
6:00 a.m.: Right On Track
7:45 a.m.: Full-Court Miracle
9:35 a.m.: Eddie's Million Dollar Cook-Off
11:20 a.m.: Brink!
1:10 p.m.: Double Teamed
2:55 p.m.: Rip Girls
4:35 p.m.: Motocrossed
6:20 p.m.: Cloud 9
8:00 p.m.: Teen Beach 2
9:55 p.m.: Bad Hair Day
11:40 p.m.: How to Build a Better Boy
1:20 a.m.: Pixel Perfect
2:55 a.m.: The Other Me
4:30 a.m.: Genius
Monday, May 30
10:00 a.m.: Stuck in the Suburbs
11:30 a.m.: Halloweentown
1:05 p.m.: Zenon, Girl of the 21st Century
2:55 p.m.: Smart House
4:25 p.m.: High School Musical
6:15 p.m.: Camp Rock
8:00 p.m.: Descendants
10:05 p.m.: Teen Beach Movie
11:55 p.m.: Cadet Kelly
1:50 a.m.: The Cheetah Girls
3:35 a.m.: Johnny Tsunami
Tuesday, May 31 and throughout June
Each day, additional DCOMs will be presented at various times.
Is there any movie you're particularly excited to see? Which ones bring you the most memories or nostalgic feel? Leave a comment down below!
---
In the last couple of weeks, the Disney blog has shown us a glimpse of the new Frozen show from the performers to the building of the new theater. Check out the videos below of the preparations in progress as this show gets ready to debut. The first video is a behind the scenes look at the performers getting ready for the show:
The second video shows the setting up of the new stage:
What do you think so far? Are you excited to see the new show? Leave your comments down below.
---
In this episode we talk about Six Flags' latest coaster gimmick where they use Virtual Reality (VR). The updated coaster's video looks a bit outdated compared to today's mobile games and it is supposed to give you the feeling of being in a battle trying to save the earth. There are many great applications for VR but this doesn't seem to be one of them to us. Take a look at the video below and let us know what you think in the comments section below:
Here is a photo of the VR glasses made by Oculus Rift:
---
As preparation for Star Wars Land continues, with the help of LittleStar, the Disney blog posted a a 360-view of the ground breaking of the upcoming land. See how many Star Wars characters and references you can spot!