Most of the content in this post is intended for viewers/readers over 21. Podketeers would also like to remind you to drink responsibly.
We had the chance to attend our second Local Brews, Local Grooves show at the House of Blues in Anaheim and we had a blast! We attended with our pal VJ (from Disney For 2) and had a chance to sample some great beer and food along with listening to some awesome music. Check out this quick recap video:
Just as the last LBLG that we attended the breweries were located throughout 5 sections. They were:
Crossroads
(area):
North Coast
Beach City
Anderson Vallery
Iron Fist
Rose Terrace
(area)
Valiant
Angel City
Left Coast
Bourbon Street
(area)
Ritual
Noble Ale Works
Bottle Logic
Four Sons
Music Hall
Crispin Cider (Upstairs)
The Bruery
Golden Road
Pizza Port
Courtyard Patio
Barley Forge
Modern Times
Lightning
One of our "issues" (which was more of a personal problem) was that there were so many things that we wanted to try! Each brewery brings between 2-5 different drinks to sample throughout the evening. Some of the drinks are special brews specifically for the event and some bring in things only available in their tasting rooms. Some even haul around nitrogen for that extra creaminess while pouring (and in case you're wondering, yes, it does make a difference when it's on nitro). One thing we noticed at this event is that it seemed that attendance was capped far earlier than at the last one. Don't get us wrong, we're not complaining. Actually, we felt that it made the event more enjoyable because it helped balance waiting in lines while still having a moment to speak with the brewers about their creations.
We started by heading over to a favorite of our podcast, Modern Times. Since being introduced to the San Diego based brewery, it has become a staple on the short beer list on hand for weekly recordings. Our first drink was their 'Fruitland Sour' (4.8% ABV) which is a sour gose with an amazingly balanced cherry flavor. We'll classify this one under the "sit down and relax in this crazy hot weather" category. Also on tap was their 'Grapefruit Fortune Island' (5% ABV) which is another great choice for this hot weather. This zesty beer is what happens when the worlds of IPA and American Wheat Ale meet to give you a very aromatic hybrid full of flavorful orange and grapefruit notes. The hops are not very intense so fans of lighter beers may find this very palatable. We do believe that it's a limited release so try to get your hands on it before it's gone.
To the left of that table was another set of our favorites that evening. Barley Forge started with two strong flavors known as 'Don Perfecto' (5.1% ABV) which is a wonderful tasting Horchata Wit and 'The Patsy' (6.6%) (our favorite of the table) which was a coconut rye stout. The strong notes of coconut, coffee and rye gave us really strong aromas while remaining very balanced making it something that was very smooth to drink.
Across the courtyard in the area known as Bourbon Street the wizards at Anaheim-based Noble Ale Works gave us something that brought some boyhood cheer when we sampled their milk stout known as 'Cinnamon Roast Crunch' (5.5% ABV). We will say that if you're looking for the "crunch" you will be deeply disappointed, however, if you're looking for a beer that tastes a lot like a popular breakfast cereal: This. Is. It. Definitely on the top of our list, this beer was extremely palatable and absolutely a pleasure to drink. If you're familiar with Noble's "Naughty Sauce" this beer will seem very familiar as it based on it with the addition of cinnamon. We need this bottled, Noble. Seriously. Bottle this. We're not kidding.
Our buddy Dan (from @Mousebrew) caught up to us upstairs in the Music Hall where we were surprised by Crispin Cider's offerings which give us a little more reason to love ciders. Although we will occasionally drink them, we're not huge fans of ciders. At the last LBLG event we had a pineapple cider by ACE  which was fantastic!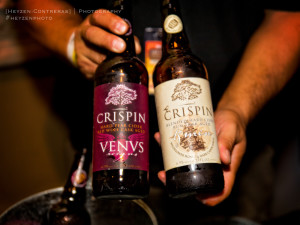 At this event Crispin came in strong with a Blackberry Pear cider (5% ABV) that was amazing! Fermented in 100% pear juice, one of the best things about this cider is that it was not based on a flavored apple cider; it was solely pear and berries. The folks at Crispin also saved us a taste of two limited releases. The first was a pear cider aged in red wine casks called Venus Reigns (6.9% ABV) which at first taste tasted much like a general red wine. This drink had a subtle oak taste but the pear came in strong with a small hint of what tasted like vanilla. The other special selection was a cider aged in rum casks called '15 Men' (6.9% ABV). Of the two limited releases this was possibly our favorite. This well balanced cider had great hints of vanilla and a very light syrup. The taste of honey edged it's way into the tail end of your drink leaving you very satisfied with the taste.
The event wasn't only about the brews available, though. Close to two dozen bands rocked out on 3 stages through the venue. Our unanimous favorite that evening was a band that played on the Outdoor Stage called Moonlight Graham. Check out this 15 second clip that we threw up on our Instagram:
If that wasn't enough there was some fantastic food offerings! Our favorite that evening was hands-down the 'Loaded Mac-N-Cheese' (0% ABV, come on, it's mac-n-cheese)! This creamy take on a classic comfort food was loaded with bacon, pico-de-gallo and chives; it was amazing. Also on our list of deliciousness were the smoked chicken legs which were served in open-top beer cans (which was a subtle but nice touch) on a bed of coleslaw.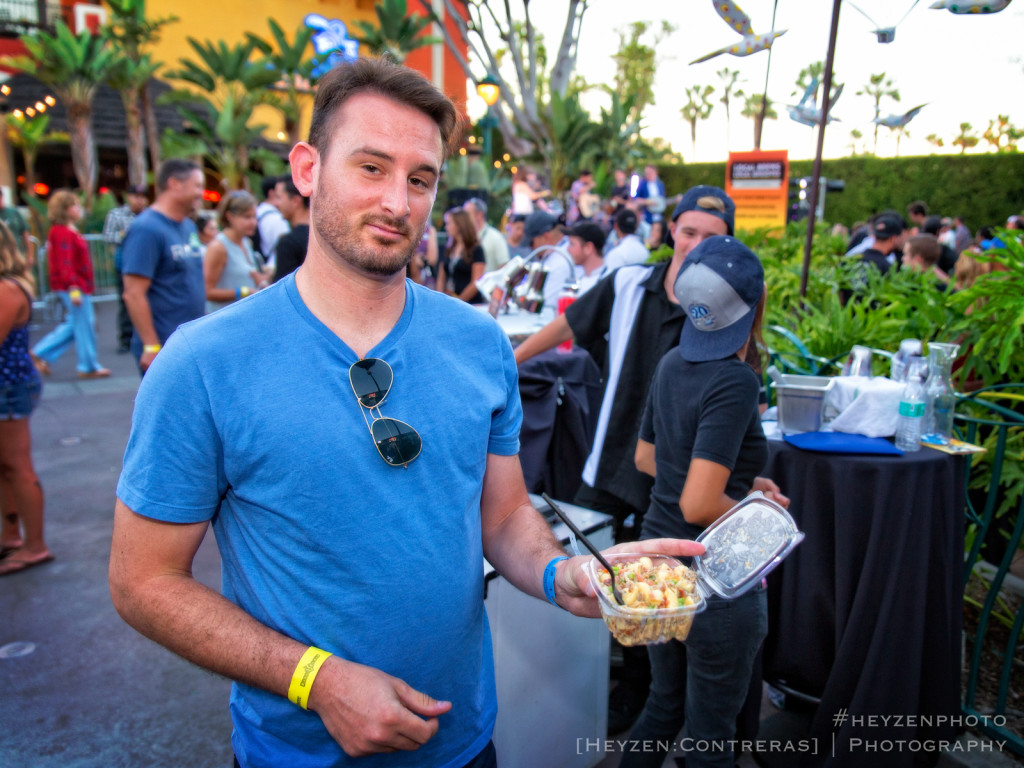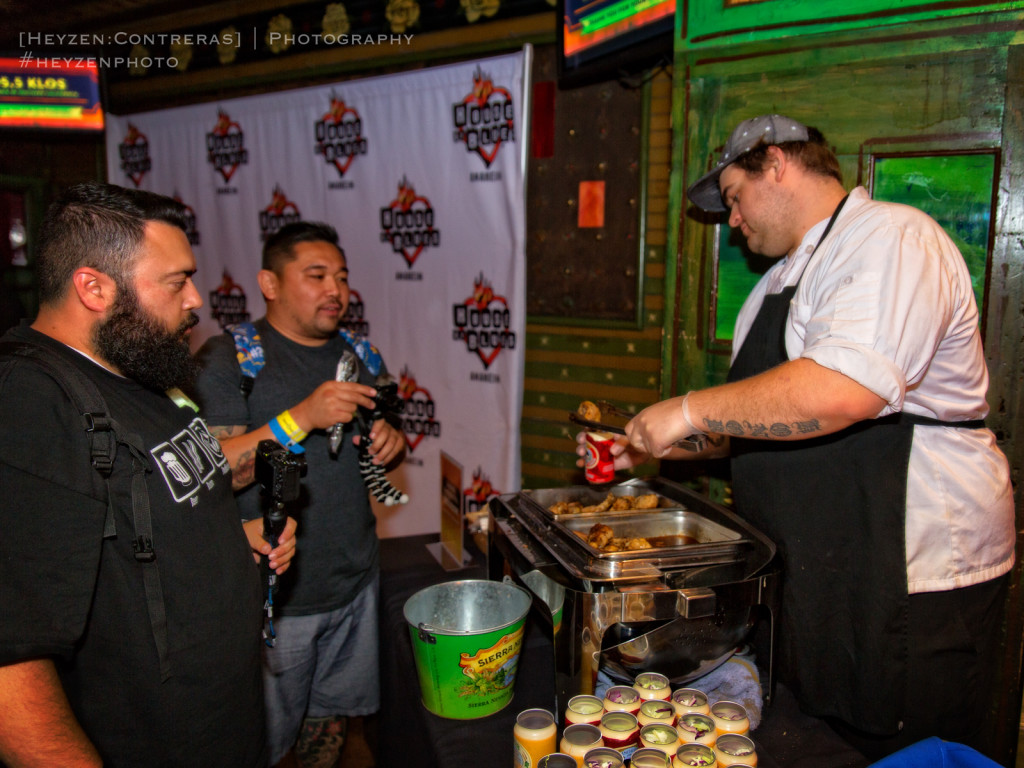 If you would like to see more photos from the event, Heyzen posted some on his photography website located at:
http://www.heyzencontreras.com/blog/2015/local-brews-local-grooves-anaheim-ca-09-19-15
Our buddy Dan (@Mousebrew) put a recap video of his experience at the LBLG event as well! Check it out down below:
https://www.youtube.com/watch?v=6S9LtIAfj4Q
You can find Dan on Youtube at: https://www.youtube.com/mousebrew
All-in-all we had an amazing time! We would like to thank the awesome people at the House of Blues in Anaheim for once again giving us the opportunity to attend this show.