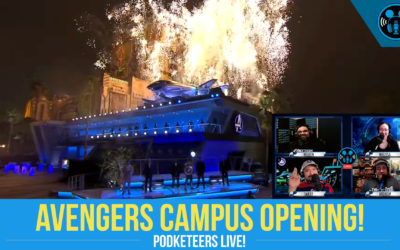 We were live on YouTube for the opening of Avengers Campus at Disney California Adventure on June 2, 2021!
read more
Follow us on these networks
WeveGotEars ❤️s Podketeers! ★★★★★ Yes they tell stories and make jokes but you know there are enough Disney podcasts out there chock full of straight info. I love hearing these guys' take and love their jokes. They deliver Disney news (and etc!) in a fun way that always keeps me chuckling. Their passion for Disney is evident and they do their research while giving their own opinions too. It's great.
So Much Fun Listening! ★★★★★ These guys are hysterical and make you feel like you are one of their friends! Plus, they have great info about Disney, Comic Books, Movies and everything a Disnerd loves. Listening to them during my commute is a highlight of my week. Thanks so much guys!!
Warning: You will laugh. ★★★★★ Wednesdays at work are my longest days in the week, and these guys have me busting out laughing! My coworkers think I'm crazy because I laugh so much! If you love everything Disney, beer, bacon, technology, and everything in between, you should DEFINITELY give this podcast a listen! I've been listening since Episode 1 and have not been disappointed!
Like the podcast and want to help? 
If you would like to help out our podcast here's a few ways!