This page last updated on 3/21/22
Welcome to the official page for March Mayhem 2022! In this year's tournament, Disney snacks will face-off to find which will reign supreme and your votes will determine a winner!
We'll be posting updates as the competition progresses so make sure to bookmark this page and check it daily to see if your favorites advance!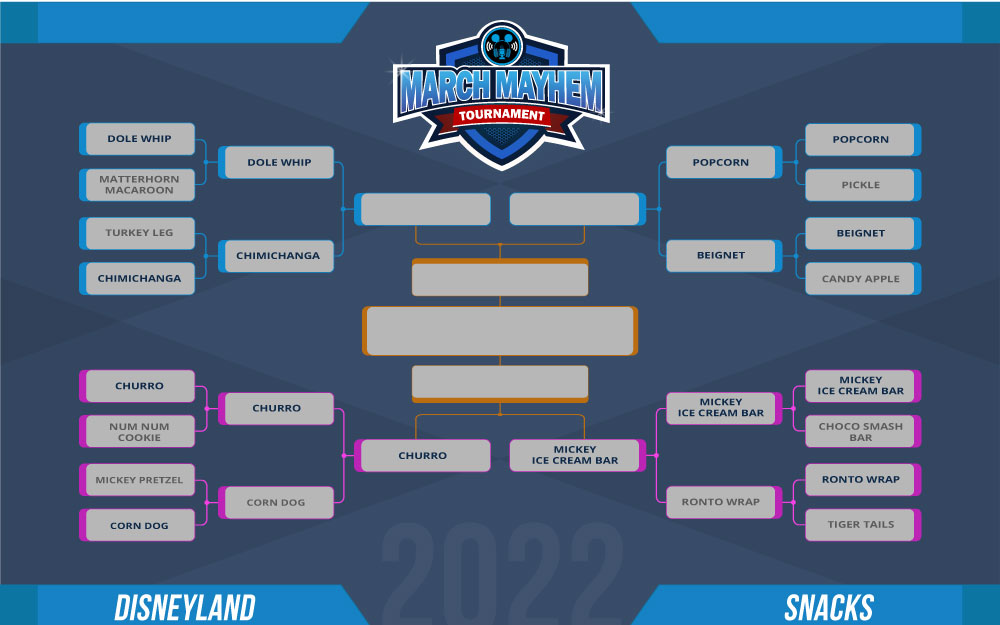 Using one of these links will take you to Amazon using our personal referral link which may result in us collecting a small commission from your purchase.
  Matchup schedule
Voting for each match-up will run for 24 hours starting at 12 pm (PST) on the day listed. Voting will happen through the Podketeers Instagram Stories using the "Poll Sticker" feature. Here is the current voting schedule:
ROUND 1
---
Monday, March 7, 2022 (Week 1)
Dole Whip [Winner 91%] vs. Matterhorn Macaroon
Tuesday, March 8, 2022 (Week 1)
Popcorn [Winner 82%] vs. Pickle
Wednesday, March 9, 2022 (Week 1)
Churro [Winner 73%] vs. Num Num Cookie
Thursday, March 10, 2022
Mickey Ice Cream Bar [Winner 72%] vs. Choco Smash Bar
Friday, March 11, 2022
Mickey Pretzel vs. Corn Dog [Winner 51%]
Monday, March 14, 2022
Ronto Wrap [Winner 68%] vs. Tiger Tails
Tuesday, March 15, 2022
Turkey Leg vs. Chimichanga [Winner 62%]
Wednesday, March 16, 2022 
Beignet [Winner 88%] vs. Candy Apple
ROUND 2
---
Thursday, March 17, 2022
Churro [Winner 65%] vs. Corn Dog
Friday, March 18, 2022
Mickey Ice Cream Bar [Winner 67%] vs.  Ronto Wrap
Monday, March 21, 2022
Dole Whip vs. Chimichanga
Tuesday, March 22, 2022
Popcorn vs. Beignet

SEMI-FINALS (ROUND 3)
---
Wednesday, March 23, 2022
Churro vs. Mickey Ice Cream Bar
Thursday, March 24, 2022
TBD vs. TBD
CHAMPIONSHIP
---
Friday, March 25, 2022
TBD vs. TBD