This page last updated on 3/8/23
Welcome to the official page for March Mayhem 2023! In this year's tournament, some of our favorite Disney quotes will face-off to determine which one has all the quotableness power! If you're wondering whether "quotableness" is a word – it sure is.
We'll be posting updates as the competition progresses so make sure to bookmark this page and check it daily to see if your favorites advance!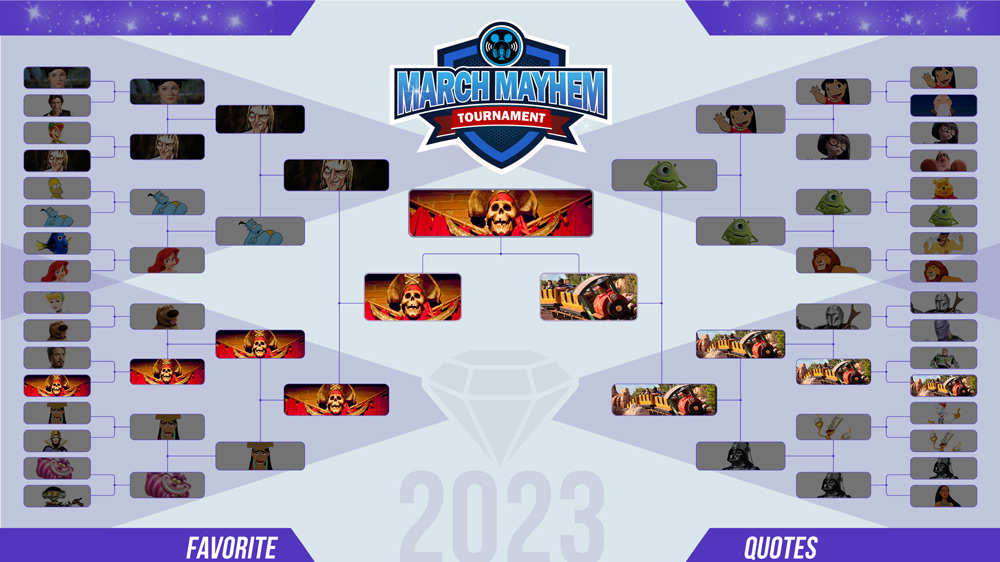 Matchup schedule
Voting for each match-up will run for 24 hours starting via the Podketeers Instagram Stories using the "Poll Sticker" feature. Here are the match-ups and results:
ROUND 1
---
Mary Poppins [Winner] vs. Han Solo
Lilo [Winner] vs. The Emperor of China
Cheshire Cat [Winner] vs. RX-24
Darth Vader [Winner] vs Pocahontas
Peter Pan vs. The Ghost Host [Winner]
Edna Mode [Winner] vs. Chef Gusteau
Emperor Kuzco [Winner] vs. Queen Grimhilde
Roger Rabbit vs. Lumiere [Winner]
Homer Simpson vs. The Genie [Winner]
Winnie The Pooh vs. Mike Wazowski [Winner]
Tony Stark vs. Captain X [Winner]
Buzz Lightyear vs. The Old Prospector [Winner]
Dory vs. Ariel [Winner]
Powerline vs. Mufasa [Winner]
Cinderella vs. Dug [Winner]
Din Djarin [Winner] vs. Thanos
ROUND 2
---
Mary Poppins vs. The Ghost Host [Winner]
Lilo [Winner] vs. Edna Mode
Emperor Kuzco [Winner] vs. The Cheshire Cat
Lumiere vs Darth Vader [Winner]
The Genie [Winner] vs. Ariel
Mike Wazowski [Winner] vs. Mufasa
Dug vs. Captain X [Winner]
Din Djarin vs. The Old Prospector [Winner]
ROUND 3
---
The Ghost Host [Winner] vs. The Genie
Lilo vs. Mike Wazowski [Winner]
Captain X [Winner] vs. Emperor Kuzco
The Old Prospector [Winner] vs. Darth Vader
SEMI-FINALS (ROUND 4)
---
The Ghost Host vs. Captain X [Winner]
Mike Wazowski vs. The Old Prospector [Winner]
CHAMPIONSHIP
---
Captain X [Winner] vs. The Old Prospector