First off, we'd like to say thank you all for the support when purchasing our t-shirts! As some of you may know there are costs associated with running a free weekly podcast and things like our t-shirt sales and using our Amazon link definitely help offset those costs. Furthermore, the fact that you
want
to rock Podketeers gear out in the parks is absolutely heart-warming to us!
In short, our t-shirt designs are parodies of things that we individually love (not limited to Disneyland). This includes our Disneyland Marquee logo shirt called "Throwback Flags".
For years the classic Disneyland Flag Marquee was a warm welcoming reminder you that you're about to enter the "Happiest Place On Earth". The photo below is from one of the largest online collections of historical sites, DaveLandWeb.com. If you've never been to Dave's site you definitely owe it to yourself to check it out (plus Dave is a super nice guy that some of us met back in May)! Dave recently started an Instagram account with some amazing photos! If you're not following him on IG here is the link to his account: @davelandweb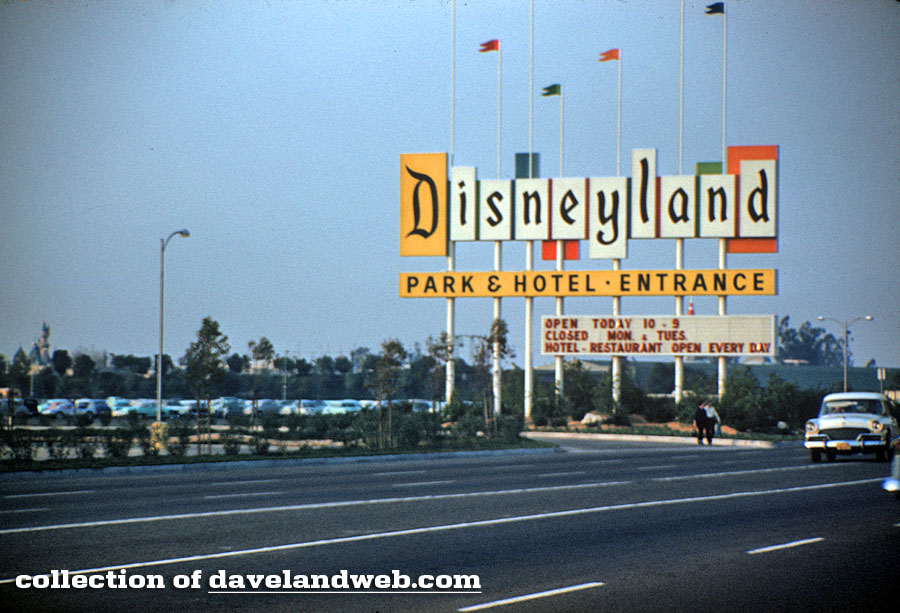 The Disneyland Marquee stood as shown above until the late eighties when it was replaced by an updated snazzier looking version. The newer marquee ultimately met it's demise during the park expansion that brought us California Adventure. Earlier this year we saw a poster for the opening & dedication ceremony of Disneyland while doing a "vintage Disneyland poster" search on Google.  After seeing the poster (below) we thought it would be a nice homage to the place that we love so much to have our name displayed in the same manner. We've even seen at least one Social Club pay the same respect to this classic landmark.
Update (8/3/2015): The Disneyland-inspired poster below was created by Christopher Little back in 2007 as part of a school project. The link below (or click on the poster) talks about his background and why he was inspired by the park we love to create this poster. You can also check out his other website SimbaSpot.com.
DisneylandCaliforniaRe(p)ort -> Disneyland Poster, July 17 1955
Recently we were accused of "stealing" the marquee logo. Not by Disneyland but by other Disney fans. To be clear, we don't claim to own the rights to the marquee logo which is owned by the Disney company. The accusing party went as far to say that it was rude that we were taking everyone else's logos and using them as our own. The majority of our t-shirt designs are not meant to be permanent replacements of our logo but, again, a parody of things that we love. Plenty of people create parodies of things that they enjoy, like the Starbucks logo. A simple search on several popular DTG (direct-to-garment) websites will show proof of that (like TeePublic, the company that we use to print our shirts).
We were made aware that a "nicely worded email" asking us to "retire" that particular design was sent to us a couple of months ago. We're not sure what email address this message was sent to but we can tell you that all of our emails are managed via Gmail. After several extensive searches we found nothing regarding the email in question. We were accused of not even responding to the email but how can we respond to something that doesn't exist? Please keep in mind that we are not accusing anyone of not sending this email or even making it up, we're simply saying that we never received it. Once again, the design wasn't created to put anyone in an "uncomfortable situation" or frustrate anyone. As stated above, the majority of all of our designs are parodies of things that we enjoy and it was simply created as an homage.
In order to put this issue to rest and as a sign of camaraderie we will indeed retire the original version of our "Throwback Flags" design. Please keep in mind that we are not retiring the design because any one party is "right". We're retiring it because the Disney magic that compelled us to start a Disney-inspired podcast isn't about arguing over a design that stood over Harbor Blvd for decades or even making anyone feel uncomfortable. Whether via a podcast, a YouTube channel, a blog, your art, your music or photos on Instagram, we all have different levels of Disney fandom and we all experience the Disneyland resorts in different ways. Will ideas overlap? Certainly. These mediums are simply a vehicle to express our respect, our love and admiration for Walt and our love for Disneyland.
If you own a t-shirt with the now "classic" version of our "Throwback Flags" design, congratulations! You now own a limited edition shirt! 🙂 To replace it (and "avoid any confusion"), we would like to introduce the updated version of the design called "Marquee" along with the image that inspired it: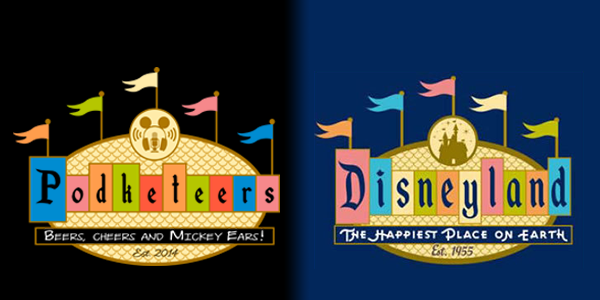 The new design is available now in the Gear section of our site (or by clicking on the image above). Thanks again for all of your support!