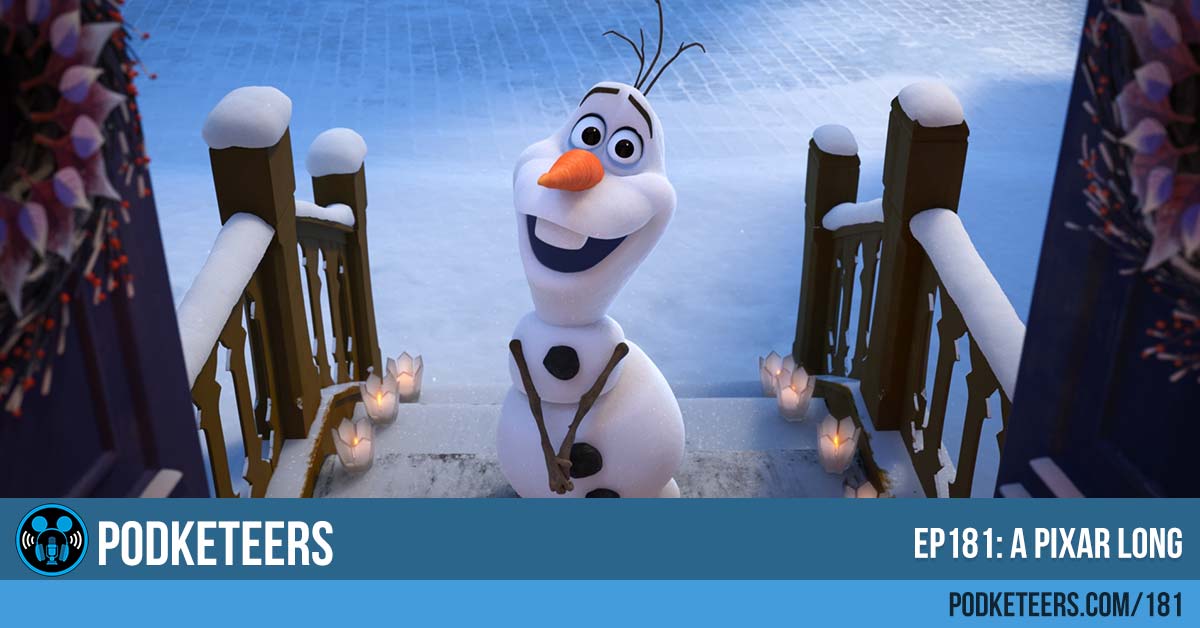 Podcast: Download (Duration: 1:07:30 — 54.3MB)
Subscribe: Apple Podcasts | Android | Google Podcasts | Stitcher | Spotify
In November of 2013 we don't think that even the Disney Company knew what a phenomenon Frozen would become. Due to the film's massive success, Frozen 2 was slated to release in November 2019. In 2015 we were given another look into the world of Queen Elsa and Princess Anna when Disney released Frozen Fever a 7-minute short telling a story in which Elsa gets sick (I mean, who could forget about the Snowgies).
Olaf's Frozen Adventure brings back most of the characters from the Frozen universe and centers itself around Olaf trying to help Elsa and Anna. Olaf is easily one of the most affable characters in the Disney universe and (we might be in the minority when we say this but) tells a pretty good story. So, win for everyone, right? Not quite. The "short" has come under fire because it's not very short. The animated tale clocks in at a surprising 21 minutes which in most cases deserves it's own release. It almost feels like this wasn't meant to be released before Coco. It feels like it was actually meant to be a TV special that aired during the holiday season but at some point someone felt would be good to play before Coco to get hopefully get some buzz going. About what exactly? The music. This new "short" features 4 full-length songs! Maybe when the "short" was created it really was 7-8 minutes long but the studio wanted to get these 4 songs out into the world for award consideration. Seems plausible. Remove the songs and you end up with a short that's a length closer to what we're used to seeing before Pixar films. Whether or not the songs will gain as much traction as 'Let It Go' did remains to be seen but they're very catchy and you can bet there will be tons of videos of people covering them on YouTube (we've been humming them since we heard them).
So what do you think? Do you think it was actually meant for TV or a primarily as a vehicle for the songs? Let us know what you think in the comments section below or on the Instagram/Facebook posts. We love to hear thoughts or theories about why the "short" was so long.
This last weekend Disney's VoluntEars program was holding a toy drive for Toys For Tots at Downtown Disney. Earlier in the week we had been tagged to join other Disney vloggers and Instagrammers to do a large toy drop. Unfortunately we had a family function and couldn't be there. As of this post we haven't seen any vlogs about that afternoon but once we do we'll update the post to include them.
SPECIAL OFFER FOR PODKETEERS LISTENERS
Trader Sam's Coffee Company is offering our listeners a 20% discount off your first order! Just use discount code POD20 during checkout. Click the button below to check out their website!
Big thanks to our guest co-hosts AJ and VJ (DisneyFor2) and also to Angela (Dislights) for her report on the Toys for Tots toy drive. Below you'll find their social links. Go follow them and tell them we said hello! 🙂