°o° --------------------- °o°
The more information we're getting about Pixar Fest the more excited we're becoming! Over the last few weeks we've been getting more updates on the food offerings. Below is a collection of the food items that we've seen floating around the web. Click on an image for a larger version.
The Disney Parks blog posted a list of the foods that were inspired by some of the Pixar properties and the locations that they'll be available. Here are those lists (which include some of the items shown above in the images):
"Up"
Fried Bologna Sandwich – Carnation Café, Disneyland park
Pork Chop TV Dinner – Carnation Café, Disneyland park
"Up" Merit Badge Éclair – Jolly Holiday Bakery Café, Disneyland park
Nutella Pastry with Chocolate Fredrickson House & Balloons – Capuccino Cart, Disneyland park
"Toy Story"
Root Beer Float Served in a Souvenir Woody's Boot – Golden Horseshoe, Disneyland park
Berry Funnel Cake (House-made funnel cake topped with blueberries, strawberries, chocolate cookie crumbles, crème anglaise, white chocolate, and gold-dusted whipped cream) – Stage Door Café, Disneyland park
Strawberry Funnel Cake (Strawberry-cherry topping, strawberry butter and streusel, with spiced syrup drizzle) – Hungry Bear Restaurant, Disneyland park
Strawberry Churro – Tomorrowland, Disneyland park
"Coco"
Cocoa Churro (Chocolate and vanilla bean dust and salted cinnamon sugar served with a spiced Mexican chocolate dipping sauce) – Frontierland, Disneyland park
"Monsters, Inc."
Mike Wazowski Bread – Pacific Wharf Café, Disney California Adventure park
Sulley Premium Popcorn Bucket – All Disneyland Resort popcorn carts
Mike Wazowski Sipper – Disney California Adventure park quick-service restaurants
What looks most appetizing to you? Is there anything we missed that you're looking forward to? Leave a comment down below!
We talked about the painting that Gavin created as part of the Pirate's celebration at D23 (2017). It's an amazing piece with many Easter eggs! Here is the product description:
This is a print of an acrylic painting I created celebrating the 50th anniversary of the Pirates of the Caribbean attraction at Disneyland. It features 50 objects from the Disney universe that have come together to recreate the famous Treasure Room scene from the attraction. The original painting was a finalist in the 2017 D23 Expo Design Challenge and was on display for all three days of the expo.

Your purchase comes with a postcard print of the painting on the back of which is a complete list of all 50 Disney objects that can be found in it.

This print is offered in two sizes: 16×20 and 8×10.
To purchase your own copy click on the image!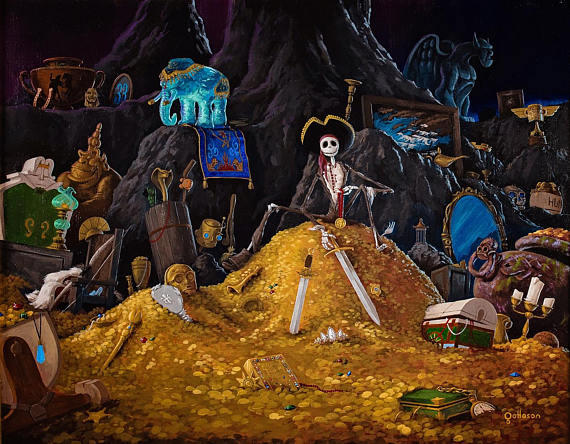 Below are photos of the mosaic with the 5-legged goat that we talked about at the Contemporary Resort.