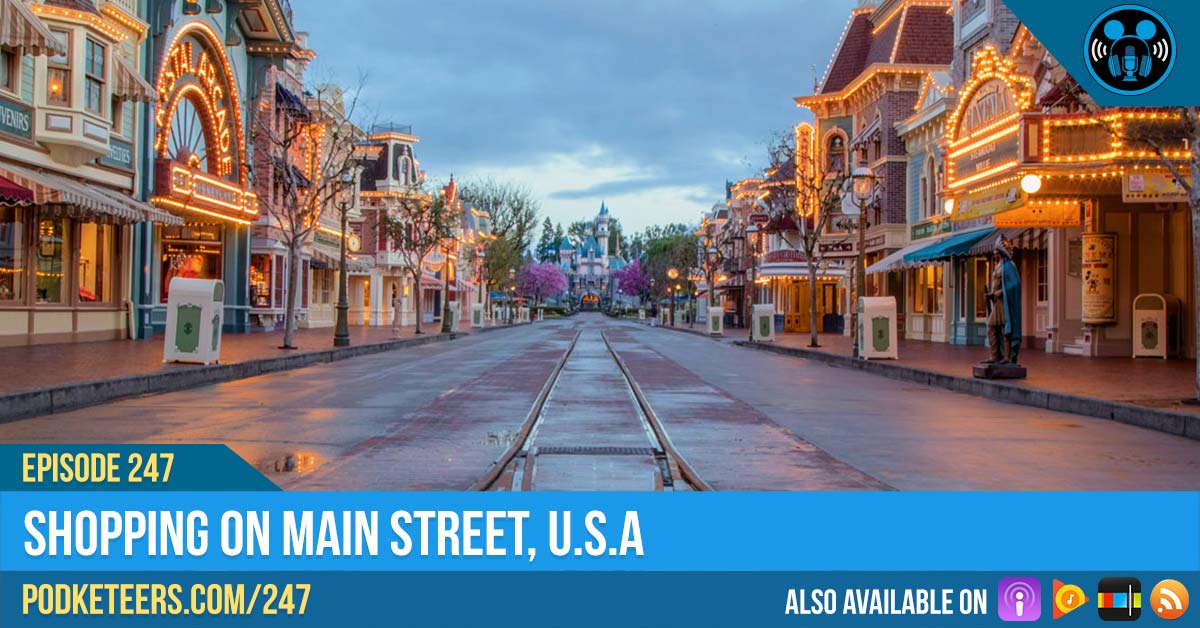 Ep247: Shopping on Main Street, U.S.A.

Podcast: Download (Duration: 1:29:22 — 72.9MB)
Subscribe: Apple Podcasts | Android | Google Podcasts | Stitcher | Spotify | RSS

Higher Further Faster
On the heels of International Women's Day, Captain Marvel has reportedly soared into an estimated $500M worldwide making it the 6th highest global debut in box history! Furthermore, Variety is reporting that this film helps bring up the MCU's 21 film catalog to a whopping $18B in worldwide gross earnings. This film has a lot riding on it for a couple of important reasons:
This is the first MCU film who's lead hero is a woman and 
Carol Danvers/Captain Marvel is key in wrapping-up a decade long story-arch that helps setup the (possible) next decade of MCU films.
The film was released on a weekend where no other major films were set to compete and was released internationally on the same day (which is quite uncommon for a film of this magnitude). Although this seems to have sparked conspiracies about the film's box office numbers, we think that the idea behind the release was to correlate with International Women's Day. Days prior to the worldwide release of the film, Disney put on their inaugural Women's Inclusion Network Leadership Conference where they happen to also have an exclusive Cast Member first look at the Captain Marvel character coming to California Adventure. 
Overall, we enjoyed the film. The original story told was well told and (although we would have wanted to hear more) the soundtrack helped spark 90's nostalgia. Have you seen Captain Marvel? Let us know what you thought about the film in the comments section below.
Vault No More
Over the years Disney has guarded the (re-)releases of their films by keeping them in the mythical "Disney Vault". Is this a physical vault? Probably not but the fact that things would go "into The Vault" usually spiked interest in purchasing a product the public was about to lose. When anniversaries came along, films would be remastered and released as a "Gold", "Diamond", or even "Platinum" edition and yes, most of us would go out and purchase the latest version of the film. 
Over time, collecting Disney films became expensive especially when you end up having 3 copies of each due to the multiple editions. The announcement that Disney's upcoming streaming service will feature all films from the Vault is huge news for any Disney fan that has ever wanted to own the entire catalog. Many films have gone into the Vault but have never come back out which leaves some consumers wondering if one of Disney's most talked about and controversial films in their history will be on the service. That film: Song of the South.
In the last several decades, the Disney Company has made effort-upon-effort to be more inclusive. To show how committed the company is about this they have even gone as far as releasing a top executive that helped them change the very industry that they're a part of. The world we live in has changed drastically since the inception of the Disney Company and many things that may have been "social norms" or were "socially acceptable" are now considered irresponsible and insensitive. Although Song of the South was beyond it's years when it came to the technical components of the film, the language and insensitivity portrayed by some of the characters would not be be tolerated by today's social standards. Releasing this film might be looked at as a step backwards for a company that has been working hard to provide and create an open, comfortable, and inclusive culture. So if you ask us, we don't think the film will be released on the Disney+ service. 
Here are the links to the two books that we mentioned in the episode!
Using one of these links will take you to Amazon using our personal referral link which may result in us collecting a small commission from your purchase.