°o° --------------------- °o°
Thanks!
Big thanks to our pal Skyler for taking on the co-hosting reigns this week! Use the links in his bio below to connect with him!
Skyler is the proprietor of the website TheDisInsider.com where he frequently shares his thoughts on Disney (/non-Disney) film news, rumors about upcoming franchises, their directors and more. Aside from sharing his commentary and expansive insight into the world of the making of films, you can also occasionally catch him taking the co-host reins as a guest on our podcast!
Disney's plan
This week Disney CEO Bob Chapek was interviewed by CNBC's Julia Boorstin about the opening of Shanghai Disneyland and plans for parks around the world. It was great interview with a lot of insight about Disney's plans. It was great to see that many of the things we are concerned with are tings that Disney is taking into consideration as the plan the reopening of more parks.
GET THE EXCLUSIVE FAIRY GODPARENT BUTTON!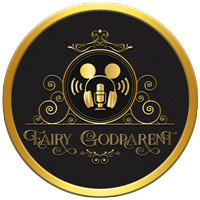 Being a part of the FGP Squad gives you access to additional content, giveaways and more! Plus, if you sign up for at least a $10 contribution you also get the exclusive Podketeers Fairy Godparent button as a thank you for your support!
If you would like to become a part of the FGP Squad family (aka one of our Podcast Fairy Godparents) you can use the 'Join the Squad' button below!
Masks for everyone
This week Skyler talked about the masks that his grandmother was making. Below is a photo from her Instagram which you can click through to her account to see some more samples.