°o° --------------------- °o°
Suitcase and a Dream
In this episode we talked about the Red Car Trolley News Boys and their show with Mickey Mouse. The song Suitcase and a Dream and the associated show were a touching tale and high-energy performance that was very uplifting. Take a look below!
GET THE EXCLUSIVE FAIRY GODPARENT BUTTON!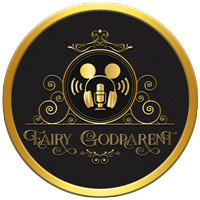 Being a part of the FGP Squad gives you access to additional content, giveaways and more! Plus, if you sign up for at least a $10 contribution you also get the exclusive Podketeers Fairy Godparent button as a thank you for your support!
If you would like to become a part of the FGP Squad family (aka one of our Podcast Fairy Godparents) you can use the 'Join the Squad' button below!