°o° --------------------- °o°
A Whale of a Tale
Imagine going about your daily routine of catching fish to sell when all of a sudden you're in complete darkness and you find yourself in the mouth of a humpback whale! That's what happened to Cape Cod fisherman, Michael Packard, while out fishing for lobsters.  What a story to tell! It's a real-life scene from Pinocchio!
Check out the Jimmy Kimmel interview below that we were talking about in this episode.
Disney Store Keys
Disney Story Keys have been around since 2010 and have been a fun way to become part of the magic during the daily opening of a Disney Store. The premise was simple if you were lucky enough to be the first in line you would be part of the opening ceremony and you would get a key to commemorate your participation. Although the number has changed over the years, a set amount of people could also get a key with a $15 purchase. Here is an example of one of the keys:

As the Disney Store closes, this fun tradition will sadly go along with it. Maybe this concept can be transferred to the parks and a lucky guest can get a special key that opened Disneyland! Only time will tell if this tradition will fade away into yesterland. Do you own one of these keys? If so, which one? Leave a comment below or join us on Discord to share a pic of your key!
Loki Locations
In this episode, Andrew talks about one of the locations from the Loki series exclusively on Disney+. The ribcage-like structure depicted as the library/archives of the TVA (the Time Variance Authority) is actually the Marriott Marquis in Atlanta, GA.  The iconic 52-floor hotel has also been featured in Spider-Man: Homecoming.
Check out these photos of the atrium from their website:
GET THE EXCLUSIVE FAIRY GODPARENT BUTTON!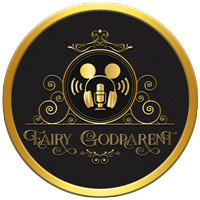 Being a part of the FGP Squad gives you access to additional content, giveaways and more! Plus, if you sign up for at least a $10 contribution you also get the exclusive Podketeers Fairy Godparent button as a thank you for your support!
If you would like to become a part of the FGP Squad family (aka one of our Podcast Fairy Godparents) you can use the 'Join the Squad' button below!