°o° --------------------- °o°
The teaser trailer for the new Dumbo movie is out and we finally get our first look at our favorite flying elephant! Wait, are there any other flying elephants? Anyhow, Tim Burton brings his unique stylistic approach to this reimagining of this Disney classic. Melissa made a great observation stating that it has a very Big Fish feel to it. One of the biggest changes is that this version includes human characters. We were really concerned that these characters would ruin the movie that we're used to but after watching the trailer we're highly on board! What did you think or feel when you saw the trailer?
Kingdom Hearts was originally released in the U.S. in Fall of 2002 and was a cross-over game that included charcters by Disney, Final Fantasy, and the game The World Ends with You. The game is based on the adventures of Sora, Riku and Kairi against the "Heartless". Nearly 20 years later, Square Enix (back then they were just known as Square) is releasing Kingdom Hearts 3 that will finally offer a conclusion to story arcs that were started back in the original game.
The graphics in this Kingdom Hearts 3 are amazing partly because consoles have evolved so much since 2002 and the fact that many of the Disney characters in this game already came from their own CG movies. Although consoles can't yet handle rendering the games at "movie quality" they get amazingly close. Check out the trailer below.
In summer of 2017 at a Cast Appreciation party at Epcot, Donald and Goofy appeared in their Kingdom Hearts outfits. These characters along with Sora have been known to appear in the parks during Halloween time but it would really great to see them in the parks for an event coinciding with the release of Kingdom Hearts 3.
Are you looking forward to Kingdom Hearts 3 or at least remember playing when you were younger? Leave a comment down below.
Using one of these links will take you to Amazon using our personal referral link which may result in us collecting a small commission from your purchase.
The new Up inspired balloon is adorable and if that wasn't enough it lights up at night! Do you have a favorite Disney balloon? Leave a comment down below.
GET THE EXCLUSIVE FAIRY GODPARENT BUTTON!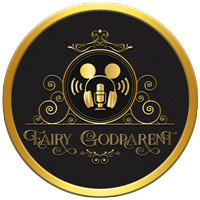 Being a part of the FGP Squad gives you access to additional content, giveaways and more! Plus, if you sign up for at least a $10 contribution you also get the exclusive Podketeers Fairy Godparent button as a thank you for your support!
If you would like to become a part of the FGP Squad family (aka one of our Podcast Fairy Godparents) you can use the 'Join the Squad' button below!
Have you taken a picture at the new #BuzzWingsWall? Tag us so in your IG post so that we can feature you in our IG stories!