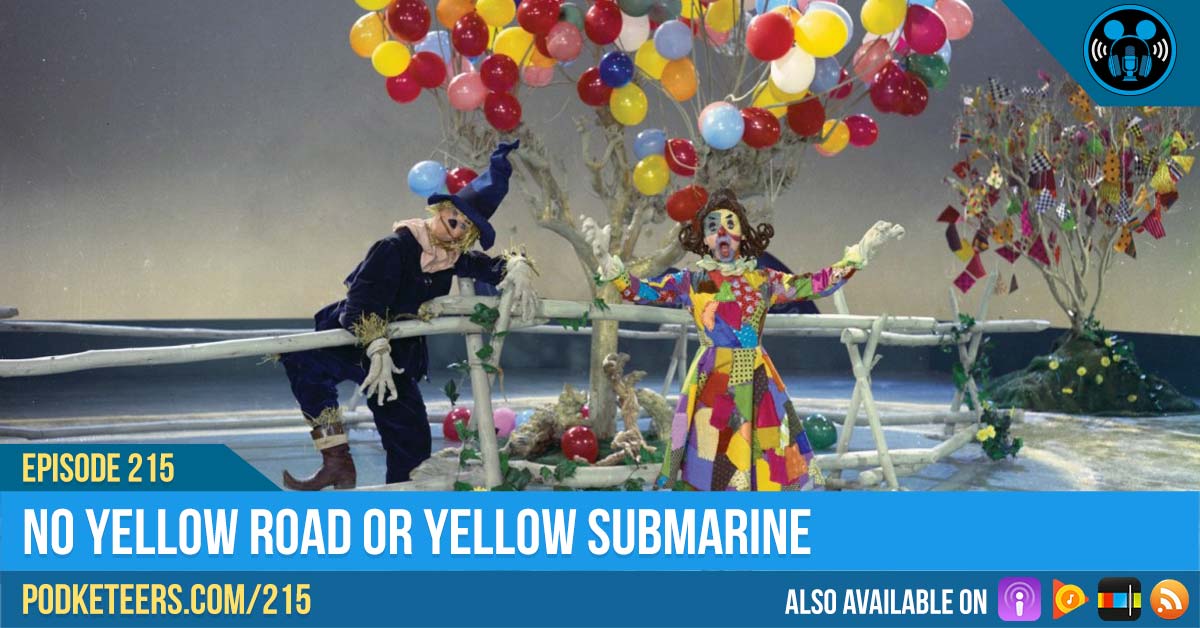 Ep215: No Yellow Road Or Yellow Submarine

Podcast: Download (Duration: 1:20:39 — 65.8MB)
Subscribe: Apple Podcasts | Android | Google Podcasts | Stitcher | Spotify | RSS
In this episode we talked about a handful of films that were planned by the Disney company but were never made or completed. One of those films was the Rainbow Road to Oz. The film was to star some of the (then) current Mouseketeers including Darlene Gillespie as Dorothy, Annette Funicello as Ozma, Bobby Burgess as the Scarecrow, Doreen Tracey as the Patchwork Girl, Jimmie Dodd as the Cowardly Lion, and Tommy Kirk as the son of the Wicked Witch of the West. A preview of the film was shown on the 4th anniversary episode of the Disneyland show. The segment was structured in a way that made it look like the Mouseketeers had the idea and presented it to Walt. The segment was clearly made to garner hype for the film but, sadly, it was never made. One of the most popular theories as to why the film was never made was due to a lack of a good script plus many comparisons were being made to the existing version by MGM which had been playing on CBS for several years. Below you can see the original segment from the show's airing on September 11, 1957.
The Blu-ray and DVD of the 2013 adaptation Oz The Great and Powerful contained a special feature called Walt Disney and the Road to Oz that talked about the film and Walt's idea of creation a Wizard of Oz related movie even before Snow White. You can watch that video below.
Using one of these links will take you to Amazon using our personal referral link which may result in us collecting a small commission from your purchase.
During the episode we also talked about a CG animation test that was made back in 1983 for the film Where the Wild Things Are. For many years, the Disney company owned the rights to the classic tale but never did anything with it passed the animation test. Back then animation for this film was very experimental and still in its early stages. The concept for this film involved CG sets but hand-drawn characters. The film (which was to be directed by John Lasseter) was never made because the film would have been too expensive to produce. You can watch the animation test below.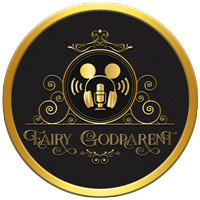 GET THE EXCLUSIVE Fairy Godparent BUTTON!
If you would like to become a Fairy Godparent of our podcast you can do so for as little as $1 per month! Plus, if you sign up for a contribution of at least $5 per month you will get the exclusive Podketeers Fairy Godparent button as a thank you for your support.
Did you get a chance to see the amazing photo posted by IG user @jeffyjnfl? It goes to show that kindness goes a very long way. Huge thanks to @jeffyjnfl for allowing us to repost his photo!
We also want to send a big shout-out and thanks to friends of the show, Justin & Megan, for sending us an audio clip of their recent trip to Toy Story Land at Hollywood Studios! Justin and Megan are better known on Instagram by their Disney-themed apparel shop Walt's Wardrobe. You can check out their website by clicking on the link below:
Make sure to use the discount code DISNEYFOR2 to get 10% off your next order!
Helping the kids
The CHOC Walk is almost here and we need your help to reach our fundraising goal! We're trying to raise money to help the Children's Hospital of Orange County (CHOC) and we've updated our goal in an attempt to raise at least $1000! If you can spare a few dollars it would help us out a lot and we would sincerely appreciate your contribution! Thank you in advance for your support!
You can click on one of the images below to donate directly to one of our fundraising pages. 
Check out this vlog from our inaugural CHOCWalk!