°o° --------------------- °o°
Space Food
During our trip to Galaxy's Edge at Disneyland we had the opportunity to eat at Docking Bay 7 Food and Cargo. The food at that location was fairly tasty and for the price you get a decent amount of food compared to the price-to-food ratio in other locations around the resort.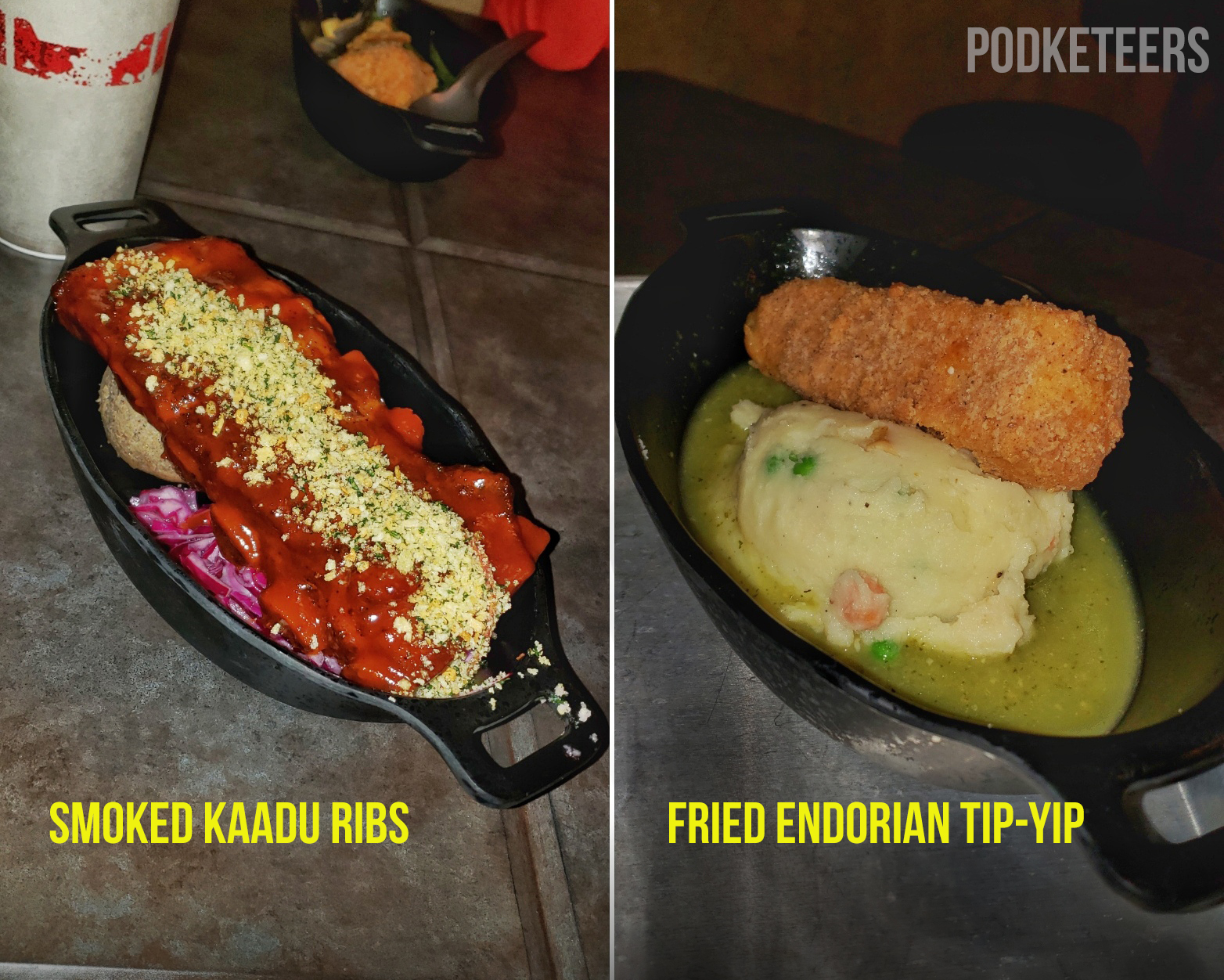 We had the opportunity to try the Fried Endorian Tip-Yip (which is fried chicken and mashed potatoes with peas and carrots) and the Smoked Kaadu Ribs (pork ribs, slaw and blueberry corn muffin). Both were tasty, but if we could offer one suggestion for the tip-yip, when eating it, try to get a little of each item on your plate, this gives it a "chicken pot pie" taste, otherwise, it just tastes like a big chicken nugget.
The ribs were falling off the bone and had a bit of a kick to them (very subtle for most but it complimented the ribs well). The slaw had more of a vinegar taste than the traditional "mayo-style slaw" but it worked really well with the BBQ sauce from the ribs.
Hondo
Hondo may not be the offspring of a pirate and an angel (we'll leave that to Thor) but he is a pirate and the adventures that he takes you on are really fun!
Hunk of Junk
If you ever wanted to know what it would feel like to pilot the Millennium Falcon, this is opportunity that you can not miss!
Parades are some of our favorite things around the park. They evoke so many feelings that it makes it one of the best experiences in the park for us! Here are a handful of parades that we've posted to our YouTube channel. Enjoy!
If you like these videos and would like to see more, we would love it if you would sign up to our YouTube channel (you can use the link below)! Remember to click on the bell icon for notifications whenever we post new videos. 
You don't often hear "that was the worst" when it comes to something Disney produces but that was unfortunate commentary heard about the predecessor to the Main Street Electrical Parade: Light Magic. Thanks to YouTube user Paul Salminen, we now get the opportunity to watch this show.