°o° --------------------- °o°
Archive Access!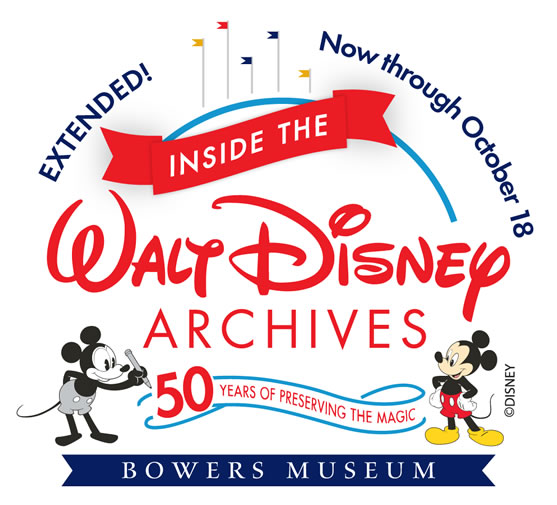 On March 7, 2020 the the Bowers Museum in Santa Ana, CA, was scheduled to host the exhibit Inside the Walt Disney Archives: 50 Years of Preserving The Magic. Due to the pandemic and stay at home orders the museum was forced to close and the exhibit has since been dormant.
Good news was posted for everyone that was eager to see this exhibit when the Bowers Museum announced that they have reopened (June 19, 2020) their doors and they have extended the exhibit through October 18, 2020! 
There will be measures in place to help contain the spread of COVID-19, such as limited capacity and timed-entry so we know that obtaining a space might get difficult.
For more infomation, check out their website at: bowers.org
The Artist Lodge will be holding a virtual gallery called GRIM GRINNING GALLERY: A Haunted Mansion Tribute which will take place between October 3rd thru November 7th 2020. We always love seeing some of the artwork that artists come up with for one of our favorite attractions!
We don't know the logistics but if you're interested in possibly being a part of the show,  a link to their website is located below and a link to their submission form is on their IG. 
One of a Kind
Texas based Heritage Auctions usually has some amazing pieces up for sale. This last week something that many Disney fans can only dream of was up for auction.
In 1957, Walt's daughter Diane wrote a book (with the help of Pete Martin) called The Story of Walt Disney. This book is not only unique because it was a book that Walt's own daughter wrote but it's also unique because Walt himself had a hand in what was written making this piece of literature the closest thing we have to a Walt Disney autobiography.
Is having a book written by Diane isn't enough it also has her signature inside. If that wasn't enough, it's also… signed by Walt! Legitimate Walt Disney signatures are pretty difficult to find. On top of that, this book is a first edition making this an absolute treasure!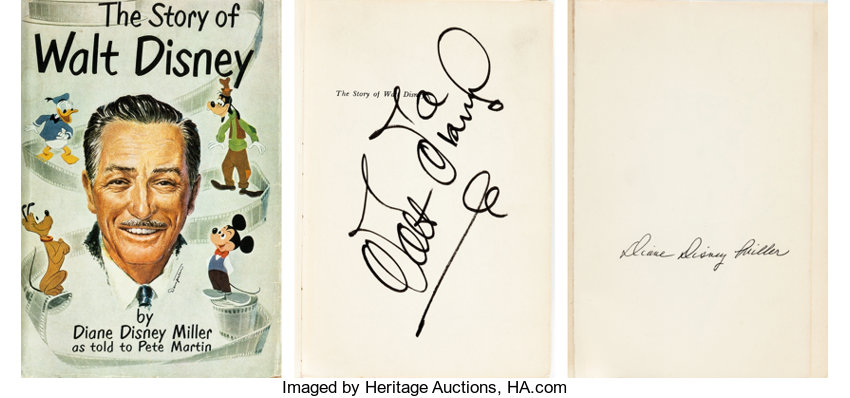 We don't know exactly how much the final auction amount was but we do know one thing, the person that ended up with this piece of history is a very lucky person.
You can check out the original auction link here:
https://comics.ha.com/itm/memorabilia/the-story-of-walt-disney-first-edition-hardbound-book-signed-by-walt-disney-henry-holt-and-co-1957-/a/7232-98370.s?ic4=GalleryView-ShortDescription-071515
FGP Squad Happy Hour
Our next FGP Squad Happy Hour is set! We received from messages about the last meet-up being too late (especially for those on the East Coast) so we've moved the meet-up to an earlier time in an effort to help more people attend.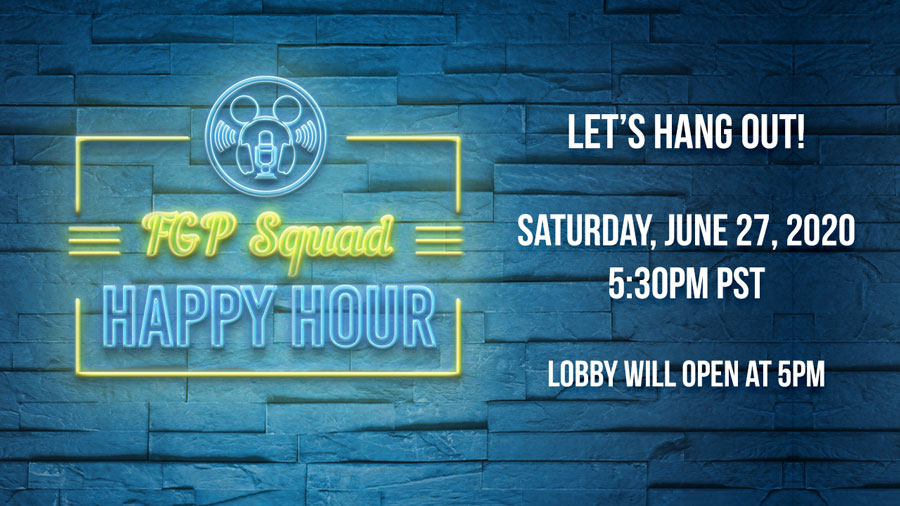 The Zoom link will be available on Patreon the day before our hang-out. If you have any questions, please feel free to reach out to us! Hope to see you there!
GET THE EXCLUSIVE FAIRY GODPARENT BUTTON!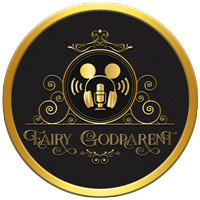 Being a part of the FGP Squad gives you access to additional content, giveaways and more! Plus, if you sign up for at least a $10 contribution you also get the exclusive Podketeers Fairy Godparent button as a thank you for your support!
If you would like to become a part of the FGP Squad family (aka one of our Podcast Fairy Godparents) you can use the 'Join the Squad' button below!
Castle Of Magical Dreams
The Castle of Magical Dreams is a reimagining of the Sleeping Beauty Castle replica at Hong Kong Disneyland. The updated castle will serve as the new centerpiece as the park celebrates its 15 year anniversary.
The updated towers and spires of the castle will honor Cinderella, Tiana, Aurora, Ariel, Mulan, Snow White, Anna & Elsa, Merida, Bell, Rapunzel, Pocahontas and Jasmine.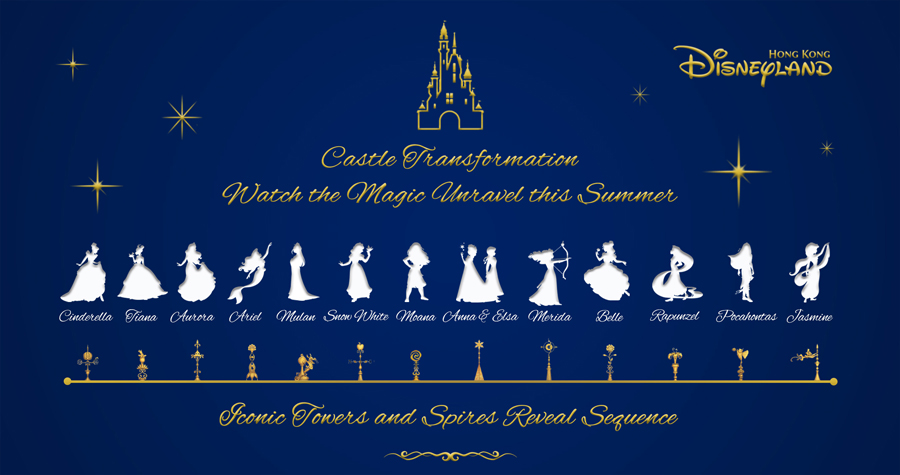 Recently a photo went up on the Disney Parks Instagram account showing a photo of the castle announcing the reopening of Hong Kong Disneyland. Overall the design is wonderful but as we talked about in this week's episode, the design of the outer castle walls seems to clash with the rest of the castle. We don't know if this is by design or of more will be done to modify the colors prior to the 15th anniversary celebration.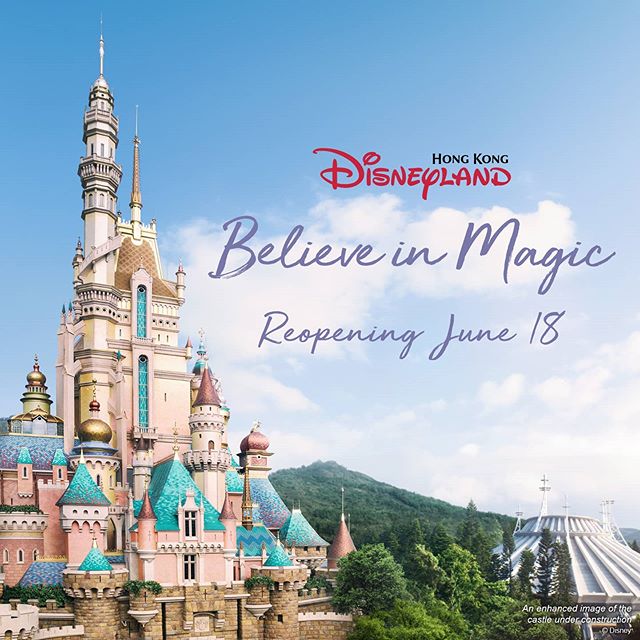 What do you think of the castle? Do you like the design? Do you think there's a disconnect with the castle walls and the rest of the castle? Leave a comment down below.
In the meantime, check out this video posted from Hong Kong Disneyland from its reopening: