°o° --------------------- °o°
Build-A-Bear Workshop has jumped on the Pokemon bandwagon and is scheduled to release an exclusive (web) version of 15″ Pikachu with a PokeBall and Charizard hoodie, a "voice" module with 6 Pikachu sounds and exclusive trading cards for $60. As of today the new plush can only be pre-ordered online and is expected late this year. Online reservations will get a gift card that can be redeemed in-store for the plush when available.
Set to Nirvana's iconic Come As You Are, Netflix gave us a (roughly) 1-minute glimpse into The Defenders: Daredevil, Jessica Jones, Luke Cage and Iron Fist. Although no exact date has been given we know it will be released in 2017 with individual series for Luke Cage and Iron Fist coming soon. Check out the preview trailer down below.
Approximately a month ago we posted a photo on our Instagram account of one of the trains in San Diego with teaser graphics of a flaming chain. At the time many associated the flaming chain with the character Hellfire but this last week during one of the panels at San Diego Comic-Con, it was confirmed that the Spirit of Vengeance will be coming to Agents of Shield this Fall.  After the panel, Marvel went on to confirm that Gabriel Luna will be playing the Robbie Reyes iteration of Ghost Rider later this year. Are you looking forward to the latest addition or AoS? Leave a comment down below.
When Gravity Falls ended we were left with a haunting image of Bill Cipher somewhere in the "real world". The final(?) cipher of the show once decoded said:
HIDDEN DEEP WITHIN THE WOODS A BURIED TREASURE WAITS
Mario felt that one of the clues (if not, the statue of Bill itself) was located at Griffith Park. This week Twitter user @ramblewheels found "clue #4″… at Griffith Park. Mario was is pretty angry about this but it is  a pretty cool item to find. Have you picked up Journal #3 yet? We feel more info will be available in that journal. If you'd like to pick up a copy, please use our link below. If you'd like to read more about the last episode of Gravity Falls we talk about it in Ep88: Beyond The Rusty Gates (https://www.podketeers.com/episode88/).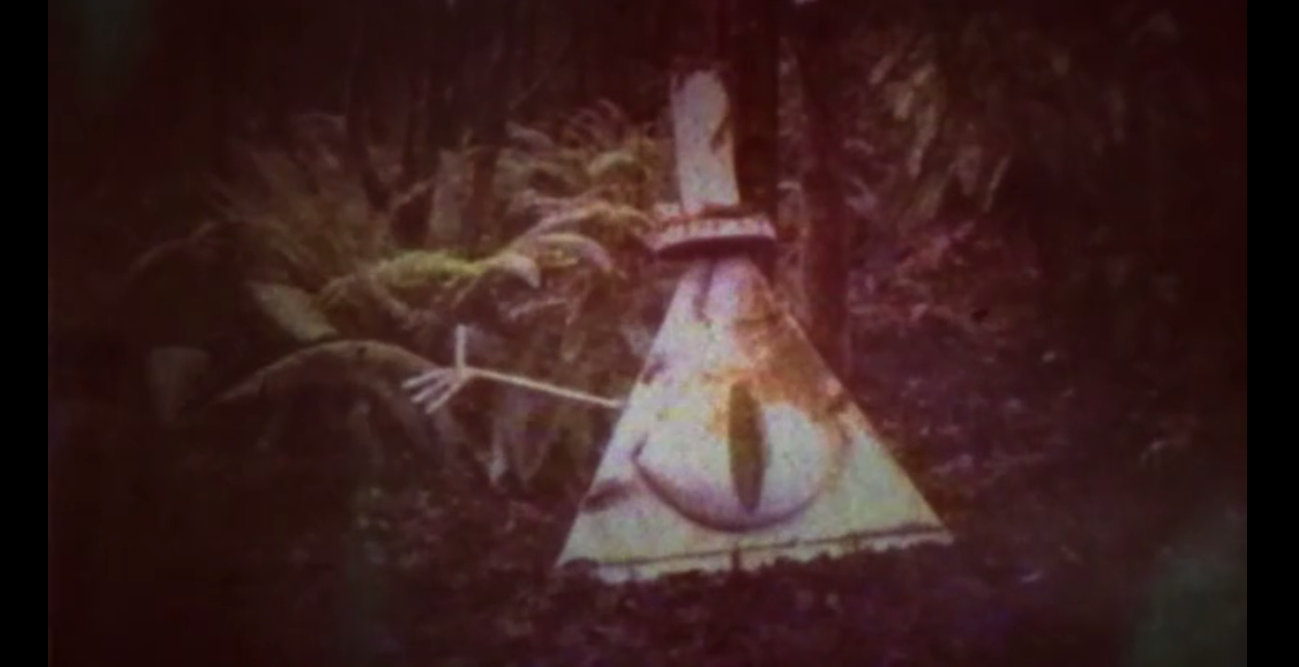 In 1923 Walt Disney famously moved to California and conquered the animation world but before he did that he needed a place to stay. This place belonged to his uncle Robert and aunt Charlotte in Los Feliz. The bungalow style home is in danger of being demolished but has enough historical significance (since Walt and Roy were both married there and it's where they started the Disney Brothers Cartoon Studio before moving down the road to an actual studio) that the home might be saved. As of this post a temporary hold has been placed on the demolition of the home. We'll update with more info as it becomes available. Check out the home via Google Maps below.
In case you missed the post on our Instagram account, check out these kids playing in front of John Williams' house. 🙂
Frozen Northern Lights will be a series of animated shorts to supplement a collection of books coming on this month. The series will be animated LEGO shorts but we didn't feel that they resembled classic LEGO figures and doesn't "feel" like LEGO. Check out the trailer below and let us know what you think.