This page last updated on 4/1/19
Welcome to the official page for March Mayhem 2019! We'll be posting updates as the competition progresses so make sure to bookmark this page and check it daily to see if your favorites advance!
Predict the winner contest
NOTE: This contest is now closed. The winner will be announced on episode 250 of the podcast!
Your votes have determine the final 16 and the bracket is ready to go! This year we will be awarding a prize to the person that can most closely predict the outcome of this year's March Mayhem!
To enter:
Save (or print) the image of the bracket and fill it out
Post it to Facebook, Instagram or Twitter and tag us (@Podketeers) using #PodketeersMarchMayhem2019 
Bracket predictions must be posted by

 March 6, 2019 at 12pm PST to qualify

In the event that multiple participants endup with the same predictions, they will be entered into a random selection drawing to determine the winner.

Participants must be 18 to enter

No purchase necessary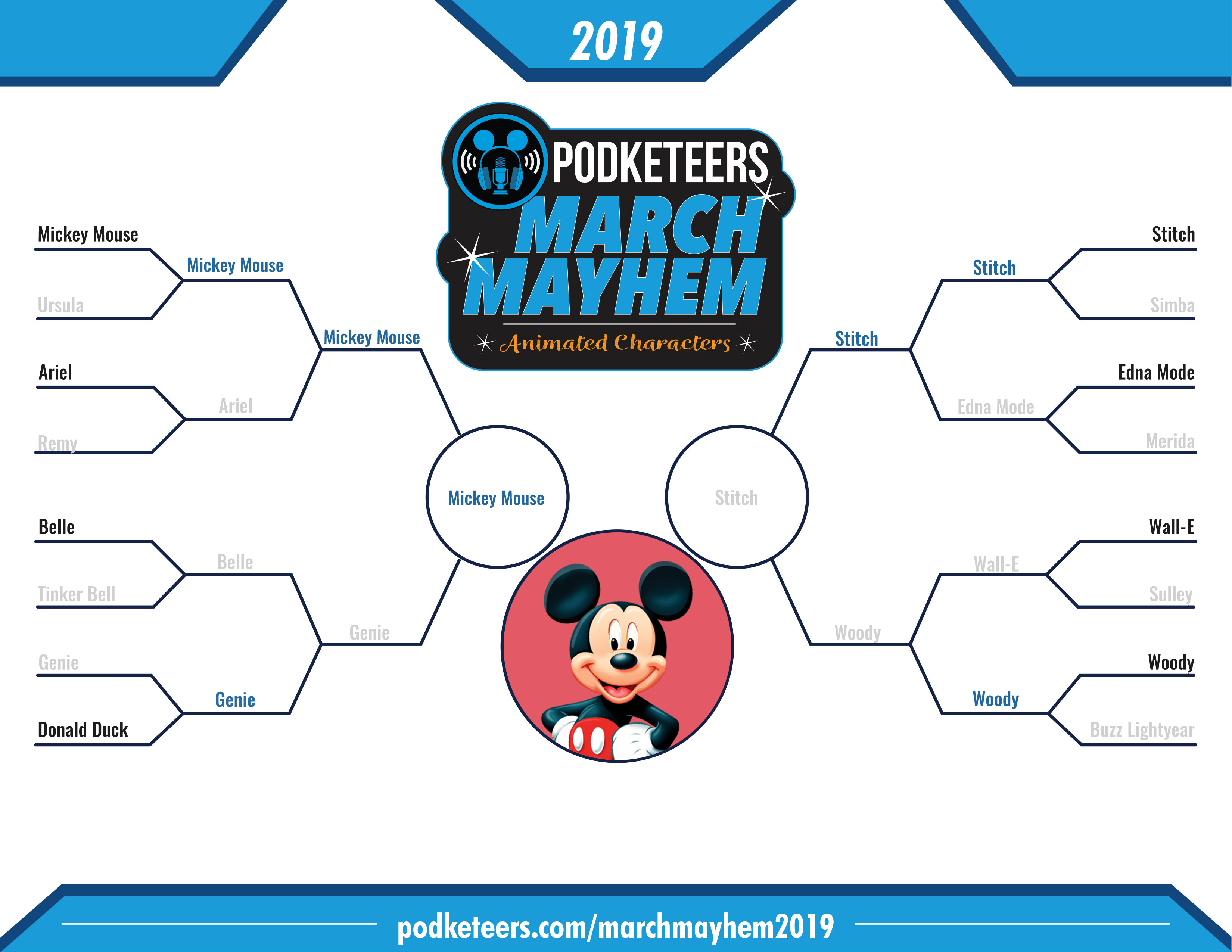 Matchup schedule
[Note: Due to issues posting on Facebook and Instagram on Tuesday, March 12, 2019, all voting was shifted by one (1) day]
Voting for each match-up will run for 24 hours starting at noon (PST) on the day listed. Here is the current voting schedule:
ROUND 1
---
Wednesday, March 6, 2019 
Mickey Mouse [Winner- 85%] vs. Ursula
Thursday, March 7, 2019
Stitch [Winner- 61%] vs. Simba
Friday, March 8, 2019
Genie [Winner- 68%] vs. Donald
Monday, March 11, 2019
Woody [Winner- 63%] vs. Buzz Lightyear
Wednesday, March 13, 2019
Ariel [Winner-65%] vs. Remy
Thursday, March 14, 2019
Edna Mode [Winner- 63%] vs. Merida
Friday, March 15, 2019
Belle [Winner- 58%] vs. Tinkerbell
Monday, March 18, 2019
Wall-E [Winner- 51%] vs. Sulley
ROUND 2
---
Tuesday, March 19, 2019
Mickey Mouse [Winner- 76%] vs. Ariel
Wednesday, March 20, 2019
Stitch [Winner- 60%] vs. Edna Mode
Thursday, March 21, 2019
Belle vs. Genie [Winner- 65%]
Friday, March 22, 2019
Wall-E vs. Woody [Winner- 54%]

SEMI- FINALS (ROUND 3)
---
Monday, March 25, 2019
Mickey Mouse [Winner- 77%] vs. Genie
Tuesday, March 26, 2019
Stitch [Winner- 51%] vs. Woody
FINALS (ROUND 4)
---
Wednesday, March 27, 2019
Mickey Mouse [Winner- 52%] vs. Stitch